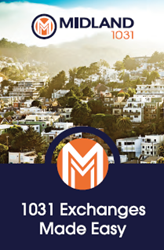 "By utilizing a 1031 exchange individuals could save thousands of dollars in taxes that can be reinvested into a new property."
Fort Myers, FL (PRWEB) August 31, 2016
Midland IRA & 1031 is dedicated to being a valuable resource in the world of investment options by providing educational tools for investors. In an effort to provide useful information on tax saving strategies for real estate investors, the firm has created a new guide on 1031 exchanges.
Internal Revenue Code Section 1031 is a strategy for individuals who currently own investment or business property and would like to defer taxes upon the sale of the property. By exchanging into another investment or business use property of equal or greater value, a 1031 exchange defers capital gains, depreciation recapture tax, heath care and state taxes. Midland IRA & 1031, headquartered in Fort Myers and Chicago, has created their 1031 Exchanges Made Easy guide to assist individuals in the rules and process of these transactions.
This guides discusses the five basic rules to completing a 1031 exchange including the net selling price, the 180-day and 45-day timeline, what qualifies as investment or business use, and the role of the qualified intermediary. Other topics include the different types of exchanges available, tax and non-tax benefits, contract verbiage, how to get started, and frequently asked questions.
"These transactions are becoming increasingly more popular for real estate investors," says Dave Owens, president & CEO of Midland. "By utilizing a 1031 exchange individuals could save thousands of dollars in taxes that can be reinvested into a new property." Midland IRA & 1031 strives to provide complimentary educational information and to be a valuable, trusted resource in the investment community. The 32-page full color 1031 Exchanges Made Easy Guide is an educational tool offered at no cost and can be requested in hard copy or PDF by contacting the Midland IRA & 1031 office at 239.333.1032 or by emailing bwhetsell(at)midlandira(dot)com.
About Midland IRA
Midland IRA is a self-directed IRA administrator that provides tax-deferred and tax-free investment opportunities, superior customer service, and educational tools to assist investors in realizing the maximum benefits possible within IRAs. Midland IRA makes it easy to use self-directed retirement plans to invest in assets that the individual investor knows, understands, and can control. Midland IRA is also a 1031 exchange qualified intermediary with several Certified Exchange Specialists® on staff.
About Dave Owens
Dave Owens is president of Midland IRA in Fort Myers, Chicago, Miami, Gainesville, New England, and the Florida Panhandle. Owens opened the Fort Myers headquarters in 2003. His background as a certified public accountant, combined with a long history of personal retirement self-direction, provides his audiences and clients with solid advice and practical solutions to their IRA investment questions. Owens holds a BS in accounting from Purdue University. He also earned the prestigious Certified Exchange Specialist® designation through the Federation of Exchange Accommodators.