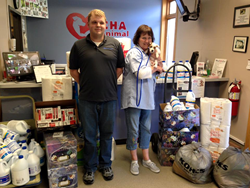 We look forward to working with CHA again in the future as we continue to partner with local organizations that align with our values.
Dublin, Ohio (PRWEB) August 31, 2016
Safeware, a leading provider of product protection and extended warranty solutions, recently concluded a three-month long collection of supplies and financial contributions for the local CHA Animal Shelter. The shelter is dedicated to finding homes for cats and dogs in the Central Ohio area, and Safeware's philanthropic-minded associates immediately connected to the mission of the organization.
An associate-driven committee leads Safeware's annual donation and volunteer efforts through activities, competitions and other events. CHA Animal Shelter was selected as the company's second quarter initiative for 2016 as a result of its dedication to providing equal support for both cats and dogs, and the significant impact they have on the Central Ohio community.
To kick-off the initiative, Safeware associates participated in a supply-drive, collecting nearly five hundred items, including bleach, sponges and paper towels for cage and facility cleaning, and permanent markers for administrative purposes. This collection of highly-needed items will be enough to support the shelter's supply needs for the next four months. Based on the amount of money raised by each departmental teams over a two week period, participants had the opportunity to sponsor a pet or cage, or name a pet. In addition to these collection efforts, the company's philanthropy committee visited the shelter in an effort to connect with volunteers and meet animals benefiting from the collection initiatives.
"Many of our associates are passionate about pets. The CHA Animal Shelter provided a perfect opportunity for the team to work with a well-established non-profit that helps animals in need," says Safeware's Chief Executive Officer, Bryan Schutjer. "We look forward to working with CHA again in the future as we continue to partner with local organizations that align with our values."
Having previously dedicated time to a different philanthropic effort each month, Safeware has restructured its giving in 2016, now focusing upon a different Central Ohio non-profit organization each quarter. This new method allows the company to develop more targeted initiatives that have greater impact due to the amount of time and resources able to be committed to each project.
About Safeware
Having pioneered the technology insurance industry in 1982, Safeware is now one of the most recognized names in product protection. Safeware's innovative approach to insurance and extended warranty solutions has propelled the company into multiple industries including education, corporate technology, fitness, furniture and appliances. By allowing partners to customize coverage based on their unique needs, Safeware provides best-in-class programs to help customers own their products with confidence.
Learn more about Safeware online at http://www.safeware.com or by calling 1.800.800.1492.