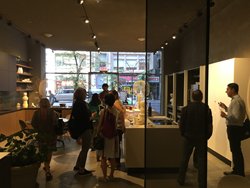 New York City, NY (PRWEB) August 31, 2016
Cesar New York, the North American flagship for Italian kitchen cabinetry company Cesar, has just completed a series of open house events, which were held in their Flatiron showroom.
The Summer Open House Series took place every other Thursday beginning July 14. Attendees of the events were treated to wine and cheese in the showroom, where they also mingled with Cesar NYC's staff, including Senior Designers Kobi Aharon and Gregory Hitchcock. Attendance averaged between forty and sixty guests at each event, and included architects, designers, and those who work and reside in the neighborhood surrounding the showroom.
Invitations to the events were sent via social media, Cesar NYC's newsletter, fliers, and websites including Editor at Large (http://editoratlarge.com) and Flatiron District Business Improvement District (http://www.flatirondistrict.nyc). To receive information on upcoming events, opt in to Cesar NYC's newsletter via their website (cesarnyc.com) and follow the company on Twitter, Instagram or Facebook. Outside of events, Cesar NYC also always makes its showroom available to designers, architects, and the public. For hours and more information, visit cesarnyc.com or contact Cesar NYC at info(at)cesarnyc(dot)com. Appointments may also be scheduled through the website.
Cesar New York is Cesar Italy's North American flagship location. Cesar is a luxury European kitchen cabinet company that produces extremely high quality contemporary kitchen cabinet and kitchen storage solutions. Cesar New York's showroom is open to trade designers and to the public. It is located at 50 West 23rd Street, New York, NY 10010.