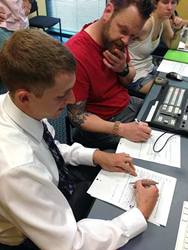 Charlotte, NC (PRWEB) August 31, 2016
You may recognize Charlotte Hornets Interactive Media Coordinator Jace Darling sitting courtside at NBA games sporting his large bushy beard. Jace wasn't always the digital content provider for one of the fastest growing NBA franchises in the nation. Just recently, he was a bartender who loved social media and professional basketball, but then he married his passions into a single profession when he applied for a coveted seat at The Connecticut School of Broadcasting's Charlotte, North Carolina, Campus. He got accepted when another student backed out at the last minute. "It turned out to be a game changer", he recalls. "Jace was easy to accept because he demonstrated a passion and energy we don't see every day", says John Casson, who's taught at the school for over 20 years.
Upon graduation, Jace accepted an entry-level position with CBS-Radio. The following year, the Charlotte Hornets (formerly Bobcats) changed their name and needed someone with strong digital media skills and hands-on experience to get their message out. Jace became the first full-time employee they hired. He has since traveled the nation with the team, taken over multiple roles within the organization, and is interacting regularly with local radio and television sports reporters - many of whom are also fellow alumni of the Connecticut School of Broadcasting Charlotte campus. "It's cool running into fellow grads covering the games", Jace tells us as he names his favorite.
He recently stopped by his alma mater, Charlotte Campus, to interview recent grads and current students for paid positions and internships with the Hornets. Jace says one of the best parts of his job is being right there court side, where all the action is, at every game. He also enjoys the four and five star hotels and meals he gets when touring with the team. "It's something you never stop loving", he told us. The Connecticut School of Broadcasting is the Nation's largest group of Broadcast Media Schools with campus locations in CT, MA, NJ, NY, NC, GA and FL. Call 1-800-TV-Radio or http://www.gocsb.com