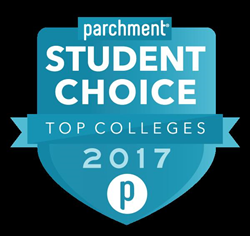 (PRWEB) September 07, 2016
Parchment, the most widely adopted digital credential service, today announced the results of its sixth annual Parchment Student Choice College Rankings study. During a period of great concern over the cost and value of higher education, student choices reveal a marked preference by applicants for colleges and universities that offer a clear and distinctive educational environment. These "mission-oriented" schools, including Pomona College, United States Air Force Academy, the United States Military Academy and the United States Naval Academy, attract students who share their purpose and consequently are chosen by those whom they admit when students have alternative choices available.
Parchment's annual study is different from other college rankings as it compares more than 770 colleges and universities using the self-reported matriculation choices of nearly 89,000 first-year college-bound students. Parchment treats student's college choices like a chess tournament, ranking schools by the total matchups won against another school. In 2017, students reported on more than 124,000 total matchups, increasing the six-year total matchups to nearly 323,000. Over the course of the six years of the Parchment study, each year yields results uncommon to traditional college rankings. Unique to the 2017 rankings, Pomona College took over the top spot, following Stanford University's three-year run at No. 1. In the most recent rankings, 17 schools that were ranked in the Top 25 in 2016 remain in 2017.
"Despite so many college rankings being published each year, none are grounded in the revealed preferences of students as measured by their matriculation choice given their other admission acceptances," said Parchment's Chief Executive Officer, Matthew Pittinsky, Ph.D. "Now in its sixth year, our running ranking of colleges using the Elo ratings system is part of our broader mission to help students turn credentials into opportunities."
Employing an Elo Ratings System, where all colleges are classified as equals, Parchment's Student Choice College Rankings methodology puts schools in a head-to-head bracket, where they earn points based on a student's attendance, or lose points if they are not selected in the matchup. Parchment then takes into account a college's ranking, awarding more points for colleges that are chosen unexpectedly and fewer points for those schools that would be considered predictable picks. At the end of each school year, Parchment then reviews the total points each school has earned to arrive at its rankings for the following year. Similar to previous years, schools were eligible for the 2017 Student Choice College Ranking when they had 50 or more matchups all time and a minimum of 15 matchups in the most recent admissions cycle.
Parchment's college rankings are pulled directly from students using Parchment's free, online college admissions tools. The Parchment website is a free resource that helps students and parents research colleges, discover their chances of admissions and see how they stack up with their peers.
The Top 25 Student Choice Colleges for 2017 include (ranking from prior year in parenthesis)
*denotes not on list last year
1. Pomona College (12)
2. United States Air Force Academy (33)
3. United States Military Academy (6)
4. United States Naval Academy (9)
5. Massachusetts Institute of Technology (2)
6. Caltech (14)
7. University of Pennsylvania (7)
8. Stanford University (1)
9. United States Coast Guard Academy (*)
10. Brown University (15)
11. Bowdoin College (13)
12. Dartmouth College (42)
13.University of Notre Dame (18)
t13. Columbia University in the City of New York (23)
15. University of California, Berkeley (19)
16. Princeton University (17)
17. Yale University (5)
18. Swarthmore College (11)
19. University of California, Los Angeles (22)
20. Wellesley College (49)
21. Pitzer College (70)
22. Harvard University (41)
23. Texas A&M International University (30)
24. Harvey Mudd College (3)
25. University of Toronto (16)
About Parchment
Parchment is the most widely adopted digital credential service, allowing learners, academic institutions, and employers to request, verify, and share credentials in simple and secure ways. The platform has helped millions of people and thousands of schools and universities exchange more than 20 million transcripts and other credentials globally. Founded in 2003, Parchment Inc. is headquartered in Scottsdale, AZ, with offices in Roseville, CA, Denver, CO, Grand Rapids, MI, Toronto, ON and Washington, DC. Follow Parchment on Twitter, Facebook and LinkedIn.