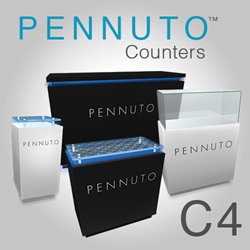 "...we realized there was a way to make just about any counter application work with one base. With C4 counters, you simply change out the top as your needs change," says Senior Product Designer Christina Moore.
Dallas, TX (PRWEB) August 31, 2016
Trade show exhibitors and corporate event marketers use trade show counters for a variety of needs. Since those needs change frequently, The Trade Group's design team set out to create a counter line that would be easy to modify and update, while keeping client budgets in check.
According to Christina Moore, Senior Product Designer at The Trade Group, "In the past, we didn't have a lot of options for refreshing or modifying counters without building a new custom counter. So we created a few different counter designs and realized there was a way to make just about any counter application work with one base. With C4 counters, you simply change out the top as your needs change."
This can be a cost-saver for exhibitors, because they won't need to purchase a whole new counter whenever they introduce a new product, need a different set-up for product demos or want to use the counter for an entirely different application.
The C4 counters are available in three widths – ½ meter, 1 meter and 1 ½ meter – with a consistent depth of ½ meter across the board. Moore's intent was to create a cohesive look across the different sizes.
As she explains, "Since all of the counters are the same depth, they can be positioned next to each other, and regardless of the application or width, they look like they are part of the same 'family.'"
During the design process, Moore and team also wanted to deliver a custom, furniture style counter with the high-end look, European styling and clean lines that align with the latest trends in exhibit design. The counters also had to be easy to modify.
Clients can purchase or rent a universal C4 counter base in black or white as a start, then modify that blank slate with their choice of top (wood, clear or frosted acrylic on aluminum stand offs, overhangs, etc.).
From there, vinyl graphic wraps, vinyl cut logos, etching and modern, colored LED lighting features on top and the toe kick can be added to achieve a custom look that aligns seamlessly with the client's brand.
"We incorporated color-changing LED lighting on the bottom of the counter, so if your brand's color is blue, you can rent or buy a white counter, then add blue lighting on the overhang and toe kick, so you end up with a custom counter that matches your exhibit," Moore says.
The lockable counters come preassembled, so set up is easy. Plus, there is adjustable shelving inside the counter to store items. As an alternative, the doors can easily be removed to transform the counter into a product display case.
During the soft rollout of the C4 counter lines, customers of The Trade Group have welcomed both the versatility and cost-savings of the C4.
As Moore explains, "You never know what a client is going to need at a show. Now it's easy to adapt to our clients' changing needs and still meet their budgets. It's as simple as buying or renting a C4 counter base and modifying the top. We don't have to build a whole new counter from scratch."
To learn more about the C4 line of trade show counters, offered exclusively by The Trade Group, call 800-343-2005.