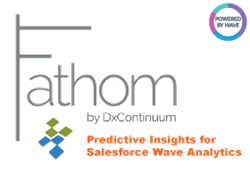 Now business users across sales and marketing will have the insights they need to drive productivity, forecast and prioritize effectively and ultimately sell smarter.
FREMONT, CA (PRWEB) September 01, 2016
DxContinuum, Inc., a pioneering provider of operational predictive analytics solutions, today delivered Fathom, an app powered by Salesforce Wave Analytics, allowing business users to drill down into predictive sales and marketing metrics from any device.
Fathom is currently available on the Salesforce AppExchange at https://appexchange.salesforce.com/listingDetail?listingId=a0N3A00000DqqiLUAR
Fathom by DxContinuum provides a simple, intuitive way for users to drill down into a wide range of data passing through DxContinuum predictive models. Interacting with this information helps business users better understand factors influencing lead quality and the probability calculations behind predicted wins and losses.
DxContinuum and Salesforce Wave Analytics Empower Employees Across Any Function and Industry to Be Smarter About Their Customers
Wave Analytics Apps empower business users to get smarter about their customers, making it easier than ever for employees across any function and industry to explore data, uncover new insights and take action instantly, from any device.
With Fathom and Wave Analytics, users and administrators have a dynamic engine to support a variety of strategic business initiatives and improvements, including:
● Accelerating lead-to-deal conversions by improving lead quality across the pipeline;
● Prioritizing sales activities and workflow to focus on deals most likely to close;
● Improving forecast accuracy and reliability at the organization, team and individual rep level;
● Focusing investments and process improvements on areas with the greatest impact on revenue.
Comments on the News
"With the combined power of Wave Analytics and DxContinuum we are excited to extend predictive analytics in order to drive smarter business decisions," said Debu Chatterjee, CEO and co-founder, DxContinuum, Inc. "Now business users across sales and marketing will have the insights they need to drive productivity, forecast and prioritize effectively and ultimately sell smarter."
"Wave Analytics is seeing rapid global adoption as companies everywhere are demanding mobile, actionable data discovery and analytics that are embedded in every business process and allow employees to be smarter about their customers," said Ketan Karkhanis, SVP Product Management, Analytics Cloud, Salesforce. "We are excited to extend the power of Wave Apps to even more departments and industries with our innovative portfolio of ISV Wave Apps now live in the AppExchange."
About Salesforce AppExchange
Salesforce AppExchange is the world's leading enterprise apps marketplace that empowers companies to sell, service, market and engage in entirely new ways. With 3,000 partner apps and more than 3.8 million customer installs, it is the most comprehensive source of cloud, mobile, social, IoT and data science technologies for businesses.
Salesforce, AppExchange, and others are among the trademarks of Salesforce.com, Inc.
About DxContinuum, Inc.
DxContinuum, Inc., is a leader in the field of predictive analytics for sales teams, focused on bringing a highly intuitive and usable solution to sales organizations to help them produce far more accurate forecasts, dramatically boost productivity and get a jump on cross-sell/upsell opportunities in a subscription base. Sales, marketing and finance professionals use DxContinuum software to enhance lead-to-deal conversion, deal size and sales velocity. DxContinuum was founded in 2012 by experienced software industry veterans from Oracle, HP and Fair Isaac with deep expertise in data science and enterprise software development. The company is based in Fremont, CA, near the heart of Silicon Valley.