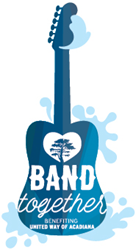 Guests will experience non-stop entertainment and a few surprises
Charenton, La. (PRWEB) August 31, 2016
Cypress Bayou Casino Hotel presents, Band Together, an evening of music to benefit United Way of Acadiana. The festivities will take place on Sunday, September 18 at 4 p.m. in the Pavilion at Cypress Bayou Casino Hotel. Tickets for the show are $20 and can be purchased at the door or in advance through ticketmaster.com. The event's proceeds will benefit United Way of Acadiana to help with local flood relief efforts.
Band Together: Benefiting United Way of Acadiana includes the following artists: N'Toon Soul, Nathan & the Zydeco Cha-Chas with special guest Lil' Nate, Warren Storm, Willie Tee & Cypress, Louisiana Express featuring GG Shinn, TK Hulin and Steve Adams and Marc Broussard.
The benefit concert is part of a multi-faceted fundraising effort, which includes a $1 contribution from the sale of each meal served at Cypress Bayou Casino Hotel for the next 30 days and flood relief t-shirt sales.
"Guests will experience non-stop entertainment and a few surprises," said Stacey McKay, Director of Marketing at Cypress Bayou Casino Hotel. "With the help and generosity of the people of Acadiana, we are able to continue our fundraising efforts to give back to the community during this difficult time," continued McKay.
Cypress Bayou Casino Hotel is a proud contributor to several local charities, nonprofits and causes from profit for betterment of the people of Acadiana.
About United Way of Acadiana
As the area's leading community solutions provider, United Way invests in and activates the resources to make the greatest possible impact in our community. United Way of Acadiana is independent, separately incorporated, and governed by local volunteers. United Way brings people together to focus on the most important needs in the community – building partnerships, forging consensus and leveraging resources to make a measurable difference. For more information about United Way of Acadiana, visit http://www.unitedwayofacadiana.com.
About Cypress Bayou Casino Hotel
Cypress Bayou Casino Hotel is located in Charenton, Louisiana off of US Highway 90 and features over 1,000 of the newest, most in-demand slots and more than 30 tables including Blackjack, Mini-Baccarat, Mississippi Stud, and 3-Card Poker just to name a few. You can also enjoy dining in one of the five unique venues or stay the night in the new state-of-the-art 102-room hotel. Phone 1-800-234-4386 for more information, or visit the website at http://www.cypressbayou.com