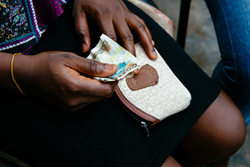 The lack of perceived alternatives has made northeast Nigerians vulnerable to Boko Haram's financial schemes
Portland, Ore. (PRWEB) September 01, 2016
New research by the global organization Mercy Corps finds that for many community members in northeast Nigeria, financial assistance provided by Boko Haram was viewed as the only viable path to business growth. A new report details how Boko Haram used financial support for recruitment and to improve the group's financial standing and build community support.
"The lack of perceived alternatives has made northeast Nigerians vulnerable to Boko Haram's financial schemes," says Lisa Inks, Peacebuilding Advisor for Mercy Corps and the report's author. "Many people we interviewed said government-provided financial support is preferable, but inaccessible without political connections or bribes."
Respondents also cited benefits of accepting financial or in-kind support from Boko Haram that went beyond monetary value; in many cases, financial support for businesses also came with the promise of security. As levels of violence reached new heights in recent years, several respondents who accepted financial support received protection from Boko Haram's own violence and were able to remain safe or keep their businesses running without disruption.
"The Nigerian government and private sector should work together to improve the transparency, diversity and accessibility of programs such as business development, job creation and financial services," says Inks. "This can pave the way for new economic opportunity while also tackling the lack of confidence in government, a grievance Boko Haram exploits."
Funded by the Ford Foundation, the report is based on interviews conducted in July 2016 with 74 community members in Maiduguri, the capital of Borno State. Forty-five respondents received financial or in-kind support from Boko Haram. This research builds on findings uncovered in Mercy Corps' April 2016 report, "Motivations and Empty Promises," which examined motives behind youth participation in Boko Haram through interviews with former members.
Mercy Corps provides humanitarian assistance in northeast Nigeria to those displaced by violence and will soon begin a new program in Borno state aiming to reduce the vulnerability of youth recruitment by extremist groups, based on recommendations from this cumulative research.
Read or download the report, "Gifts and Graft: How Boko Haram Uses Financial Services for Recruitment and Support."