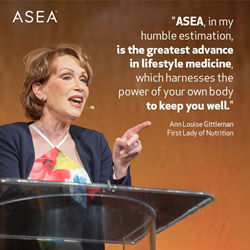 "ASEA is the most powerful lifestyle supplement/integrative medicine on the planet. ASEA provides each cell with its own personal bodyguard!" Ann Louise Gittleman
Draper, Utah (PRWEB) September 19, 2016
Announcing a new Cellular Health website educating the public on a new emerging breakthrough is exciting. Recently the Huffington Post named Redox Technology has one of the five craziest, game-changing technologies that is going to take off in 2016. Redox Signaling molecules has have been known for decades but recently we have learned how important they are to us on a celluar level on redoxshopping.com. ASEA has developed a Redox Signaling technology that inserts these healthy, native Redox Signaling molecules into your body and redoxshopping.com is highlighting this new breakthrough. These native molecules will help to repair, replenish or replace your aging cells. Every organ and/or system can potentially benefit from this "new" breakthrough technology since we are made up entirely of cells.
About ASEA and http://www.redoxshopping.com
ASEA, a emerging global leader in cellular health, is dedicated to providing a sustainable lifestyle by delivering high-quality celluar health products through principle and purpose over ego and economics, direct-selling distribution model. Harnessing science, http://www.redoxshopping.com offers first-to-market products that utilize molecules native to the human body that enhance most all cellular functions responsible to repair, replenish or replace damaged cells. ASEA's cornerstone, patented redox signaling technology boosts the body's natural cellular renewal and communication processes, improving total body health and allowing every system of the body to function better. Currently, redox signaling technology is available online in two first-to-market products: ASEA Redox Supplement, the flagship liquid supplement and first product introduced by ASEA and RENU 28, a revitalizing whole-body skin gel.
To find more information and research on this breakthrough visit http://www.redoxshopping.com or email info(at)redoxshopping.com