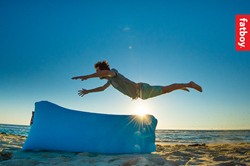 Dallas, TX (PRWEB) August 31, 2016
Lifestyle brand Fatboy USA is pleased to announce that on August 30th, 2016, the United States Patent & Trademark Office (USPTO) issued a design patent covering Fatboy USA's LAMZAC THE ORIGINAL lounger design.
Created by Mr. Marijn Oomen, a Dutch inventor and entrepreneur, the LAMZAC Lounger is an elongated inflatable bag that can be filled by scooping air into it to form the shape of a lounger. Mr. Oomen has assigned all of his rights in the design of the LAMZAC Lounger to Fatboy. The design of the LAMZAC Lounger is now covered by U.S. Patent No. D764823 and issued to Mr. Oomen and assigned by him to Fatboy (the "LAMZAC Lounger Patent").
"For obvious reasons, we are pleased our design patent has been issued," said President and CEO of Fatboy USA, Paula Masters. "The USPTO plays a major role in supporting innovators by granting the intellectual property rights and protection they need to bring their products to the marketplace and we plan to protect our rights to the full extent."
LAMZAC THE ORIGINAL is portable and has the ability to create instant comfort that consumers can take anywhere – camping, hanging on the beach or just relaxing at home. LAMZAC THE ORIGINAL is available in seven colors, and is easily deflated and stored in a portable carrying bag.
LAMZAC THE ORIGINAL is available on the company's website at http://shop.fatboyusa.com/products/lamzac-the-original and select retailers throughout the U.S.
For more information about Fatboy USA, please visit fatboyusa.com and facebook.com/FatboyUSA or email pmasters(at)fatboyusa(dot)com.
###
About Fatboy USA:
Fatboy® is an imaginative lifestyle brand that excels in thinking outside the box. Fatboy has been challenging the concepts of lifestyle products since 2002, when it set out to create the perfect lounge chair— designed for fashion, for comfort, and tailored for an unmatched lounging experience. Today, Fatboy brings energizing comfort and smiles to people in over fifty countries worldwide with a growing line of lifestyle products. Their identity is anchored in iconic European design mixed with a creative spirit and a sense of humor that extends into all of their product offerings. Fatboy is known for creating iconic products with a simple yet compelling idea reflected in their tagline, "Deleting Dull." Their tagline aligns with what has remained the core of the Fatboy brand philosophy from birth, which is to design captivating product to evoke an authentic change in people's minds for the better through the experience they have with their lifestyle product.