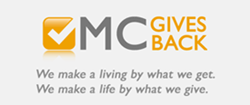 "Our company is built around community, and our MC Gives Back program allows employees to choose where and how they'll donate their time to those who need it most."
Davis, CA (PRWEB) August 31, 2016
Maintenance Connection just completed another summer of giving back, fulfilling its promise to donate 1 percent of profits and monthly employee time to local non-profits. Since 2011, employees of Maintenance Connection have participated in a variety of volunteer initiatives through the MC Gives Back program, our way of positively impacting the world by donating our time, manpower and resource to those in need.
Throughout the years, participants of MC Gives Back have served national communities like Denver and Sacramento, Calif., as well as internationally in Cambodia, Mexico, Costa Rica and Estonia. This year's groups focused on communities in the U.S., traveling to Tacoma, Wash., Philadelphia, Minneapolis and St. Louis.
"At Maintenance Connection, we instill in all employees that we are committed to a cause that is greater than ourselves," Vice President Brad Squires said. "Our company is built around community, and our MC Gives Back program allows employees to choose where and how they'll donate their time to those who need it most."
From June 22-25, Maintenance Connection employees volunteered at the Special Olympics 2016 Summer Games in Minneapolis. Volunteers served as coaches and judges, as well as volunteers across operations. Next, a group of volunteers headed to the St. Vincent Home for Children in St. Louis from July 20-22. The volunteers worked to create a curriculum for at-need students, and taught the entire education program prior to departure.
In August, Maintenance Connection traveled to CRISTA Camp's Island Lake and Miracle Ranch campsites in Tacoma to help campers with cleanup projects, including removing unused items from sheds, cleaning gutters and hauling away debris. Lastly, volunteers spent the week of Aug. 22 in Philadelphia, building a playground in conjunction with LandHealth Institute, an organization that provides environmental education programming and community-based land revitalization services.
"The most rewarding and memorable part was seeing the kids open up more and more each day as the camp went," Implementation Consultant Andrew Stolz, who attended the St. Louis trip, said. "Even the kids that started out the most disinterested were sharing their hopes and dreams with us by the end."
Maintenance Connection, based in California, implements an initiative known as "1-1-1." This ratio includes: donating 1 percent of company profits to causes and non-profit organizations; giving away 1 percent of profits via free or discounted CMMS software to organizations that cannot afford this technology; and contributing 1 percent of employee salaries during on-the-clock hours each month to local nonprofits.
To learn more about Maintenance Connections' giveback initiatives, visit http://www.mcgivesback.com, or view videos of the team's experiences here. For more information on Maintenance Connection's CMMS software, visit http://www.maintenanceconnection.com.