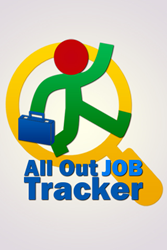 The app that finally puts you in charge of your job search!
Freeport, N.Y. (PRWEB) September 01, 2016
Targeted Personal Solutions, a Freeport,NY-based software company, announced today that it has launched AllOutJobTracker, an app created specifically to help job seekers simplify and better manage the job search process. AllOutJobTracker enables a user to keep track of jobs, interviews and phone calls and more. The website for the app is at: http://www.alloutjobtracker.com
With the app's easy to use interface, a person can have their entire record of their job search at their fingertips, updating information quickly and simply. A simple touch of the AllOutJobTracker's screen lets the user access and add information as it happens in real time, all-at-once, at-a-glance, anytime, anywhere. No more details that fall through the cracks. No more lost phone numbers or forgotten names. AllOutJobTracker is available for now for Android devices on Google Play.
"People looking for work have enough stress," states Irving Blitz, who developed the software. "AllOutJobTracker aims to help the job seeker by centralizing information and making it instantly accessible and updateable." Targeted Personal Solutions is an innovative software development team dedicated to simplifying unavoidable everyday tasks with programs and apps that make life easier. It is committed to finding simple -- and affordable -- solutions that take care of the details that fall through the cracks.