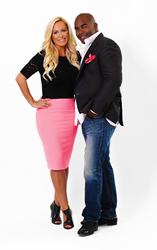 I am thrilled that Charitybuzz was able to offer something so exceptionally unique to our bidders to benefit the Leukemia & Lymphoma Society just as we enter Blood Cancer Awareness month. - Coppy Holzman, CEO of Charitybuzz
NEW YORK, NY (PRWEB) September 01, 2016
Leading online charity auction platform Charitybuzz, a member of The Charity Network, is pleased to announce the sale of the world's most unique Apple-1 computer with 10% of proceeds benefitting the Leukemia Lymphoma Society. The sale price of $815,000 makes the "Celebration" Apple-1 one of the most valuable pieces of tech history in the world today. The winning bidders are Glenn and Shannon Dellimore, co-founders and creative directors of Glamglow.
"It is appropriate that the first computer produced by Apple, a company known for cutting-edge technology, is benefiting The Leukemia & Lymphoma Society ("LLS"), an organization known for supporting cutting-edge cancer research; from developing immunotherapies to finding new approaches to battle cancer. I am grateful for the generosity of the "Celebration" owner in supporting the LLS through the Charitybuzz auction. Each of us has a connection to someone who has been affected by this terrible disease. Glenn and Shannon Dellimore as the winners of this computer, have helped support the fight to cure cancer and we are very grateful to them and to Charitybuzz for making this happen,"said Preston Clarke, Managing Partner of Arizona Venture Consulting and The Leukemia & Lymphoma Society's 2016 Man of the Year candidate.
Glenn and Shannon Dellimore have earmarked the "Celebration" Apple-1 to help communities. Their intention is to take the computer into schools and universities to enable students who would not otherwise have access, to get up close and personal with this unique machine.
"It is incredible to think that this was most likely the very first Apple-1, the Unicorn or holy grail of computers, the original very first prototype. Based on conversations I have had with fine art experts, museums and auction specialists, this Unicorn Apple-1 computer, the first of all Apple computers is likely be as valuable as a Monet or a Picasso in 10-15 years from now. This is the next generation's answer to meaningful 'great works of art'', said auction winner Glenn Dellimore, Co-Founder of GLAMGLOW. "But this is more than just a collectible or investment for us. My wife Shannon and I would consider loaning this, the Worlds first Unicorn Apple-1 computer to a World-class museum and taking it to schools and universities so that children and students can learn about its important place in history. The Unicorn Apple-1 was arguably the seed that changed the world, you just have to look in your pocket at your iPhone or smart phone".
"I am thrilled that Charitybuzz was able to offer something so exceptionally unique to our bidders to benefit the Leukemia& Lymphoma Society just as we enter Blood Cancer Awareness month. I am also very pleased that Glenn and Shannon Dellimore will be making the "Unicorn" Apple-1 available to people all over the world to learn from. The mission of Charitybuzz is to fulfill people's dreams while making a difference in the world and this is a wonderful example of both happening in many ways," said Coppy Holzman, CEO of Charitybuzz.
For a chance to meet Glenn and Shannon Dellimore and the Apple-1, visit Charitybuzz during its 2nd Annual Entrepreneur Auction, from October 25 through November 15. The Charitybuzz Entrepreneur auction will feature business leaders from around the world who will be offering their time and expertise to raise money for global causes.
ABOUT THE CELEBRATION APPLE-1
The "Celebration" Apple-1 is extremely rare not only because of the scarcity of Apple-1 computers, but also because no known PCB boards of this type were ever sold to the public. At this time, this is the only known Apple-1 to show the signs of starting out as a blank "green" PC board and not part of the two known production runs. According to Steve Wozniak, Co-Founder of Apple, "Only a few Apple I's, on blank (not green) PC boards, may have been manually soldered, although I'm not sure of it. We arranged the wave soldering with the company that made the PC boards. But we may not have wanted to wave solder a run (of maybe 10 or more board) until we manually soldered one or two to debug them."
The Apple Computer 1, also known retroactively as the Apple-1, was released by the Apple Computer Company (now Apple Inc.) in 1976. They were designed and hand-built by Steve Wozniak, an engineer at Hewlett-Packard at the time. Wozniak's friend Steve Jobs had the idea of selling the computer. The Apple-1 was Apple's first product, and to finance its creation, Jobs sold his only means of transportation, a VW Microbus, and Wozniak sold his HP-65 calculator for $500. It was demonstrated in July 1976 at the Homebrew Computer Club in Palo Alto, California. On March 5, 1975 Steve Wozniak attended the first meeting of the Homebrew Computer Club in Gordon French's garage. He was so inspired that he immediately set to work on what would become the Apple-1 computer.
Wozniak calculated that laying out his design would cost $1,000 and PC Boards would cost another $20 per computer; he hoped to recoup his costs if 50 people bought his design for $40 each. His friend Steve Jobs arranged to sell 50 assembled computers to the Byte Shop (a computer store in Mountain View, California) at $500 each. To fulfill the $25,000 order, they obtained $20,000 in parts at 30 days net and delivered the finished product in 10 days.
The Apple-1 went on sale in July 1976 at a price of US$666.66, because Wozniak "liked repeating digits" and because of a one-third markup on the $500 wholesale price. The first unit sold was used in a high school math class. About 200 units were produced and all but 25 were sold during nine or ten months. Unlike other hobbyist computers of its day, which were sold as kits, the Apple-1 was a fully assembled circuit board containing about 60+ chips. However, to make a working computer, users still had to add a case, power supply transformers, power switch, ASCII keyboard, and composite video display. An optional board providing a cassette interface for storage was later released at the cost of $72.
The Apple-1's built-in computer terminal circuitry was distinctive. All one needed was a keyboard and an inexpensive television set. Competing machines were programmed with front-mounted toggle switches and used indicator lights (red LEDs, most commonly) for output, and had to be extended with separate hardware to allow connection to a computer terminal or a teletypewriter machine. This made the Apple-1 an innovative machine for its day. It continued to be sold through August 1977, despite the introduction of the Apple II in April 1977, which began shipping in June of that year. Apple dropped the Apple-1 from its price list by October 1977, officially discontinuing it. As Wozniak was the only person who could answer most customer support questions about the computer, the company offered Apple-1 owners discounts and trade-ins for Apple IIs to persuade them to return their computers. These recovered boards were then destroyed by Apple, contributing to their rarity today. There is believed to be about 60 known Apple-1's in existence today, none of which are as unique as the "Celebration" Apple-1.
ABOUT CHARITYBUZZ
Charitybuzz raises funds for nonprofits around the globe through online auctions with the world's most recognizable celebrities and brands. Featuring access to acclaimed actors and musicians, business and political leaders, sports stars, luxury travel, couture fashion, rare memorabilia and more, Charitybuzz brings its online community of bidders exclusive opportunities to live their dreams and make a difference. Since launching, Charitybuzz has raised more than $180 million for charity. Its roster of celebrity supporters includes President Clinton, Sir Paul McCartney, Tim Cook, Mick Jagger, Warren Buffet, Robert Downey Jr., Taylor Swift, Ralph Lauren, Mayor Mike Bloomberg, Barbra Streisand, Howard Stern, Chevy Chase, Billy Joel, HBO, Victoria's Secret, Justin Bieber, Lady Gaga, John Varvatos, David Yurman, Bruce Springsteen, Hugh Jackman, and Beyonce.
Charitybuzz is a member of the Charity Network. It serves as sister company to charity video content platform Chideo and charitable online sweepstakes platform Prizeo. To learn more, visit http://www.Charitybuzz.com
ABOUT THE CHARITY NETWORK
The Charity Network harnesses the power of celebrity, technology, and media to raise awareness and funds for some of the world's toughest challenges. With a mission to complement traditional fundraising models and help charities transition from analog to digital, the Charity Network has raised hundreds of millions of dollars for causes across the globe. Launched in 2016 by entrepreneur and philanthropist Todd Wagner, the Charity Network is the parent company to three top digital fundraising platforms: Chideo, Prizeo, and Charitybuzz. Each platform is a leader in its own field: Charitybuzz in online charity auctions, Prizeo in online sweepstakes and experiences, and Chideo in cause and entertainment content. These three consumer-facing platforms, all working in tandem, reach a broad and diverse group of donors from millennials to baby boomers through a network of syndicated partners including Sinclair Broadcast Group, Tribune Company, The Ellen DeGeneres Show, Twitter, Delta Airlines and more. Together with its partners the Charity Network can amplify a cause message to over 80% of US TV households.
In addition to its consumer platforms, the Charity Network provides a full range of services to help celebrities, charities and brands customize their cause messages through the CN Solutions team of digital giving experts. To learn more please visit: http://www.charitynetwork.com.
ABOUT THE LEUKEMIA & LYMPHOMA SOCIETY- ARIZONA CHAPTER
The seller of the "Celebration" Apple-1 Computer has offered to donate 10% of the proceeds from the sale of the "Celebration" Apple-1 Computer to The Leukemia & Lymphoma Society ("LLS") in support of M. Preston Clarke's Man & Woman of the Year fundraising competition. This fundraising competition supports LLS research, patient services, advocacy, public and professional education, and community services.
Many LLS supported therapies not only help blood cancer patients, but are also now used to treat patients with rare forms of stomach and skin cancers. Clinical trials are also being conducted for patients with lung, brain, breast, pancreatic and prostate cancers to see if similar techniques may be beneficial to treating these types of cancers. Drugs funded by LLS like targeted therapies and immunotherapies are now becoming available to more individuals fighting blood cancers and in turn are saving thousands of lives every day. To learn more about The Leukemia & Lymphoma Society please visit http://www.lls.org or Man & Woman of the Year: http://www.mwoy.org/az
###