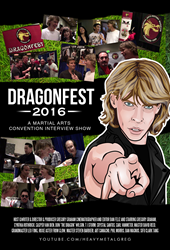 The stars of my movie are among the most prominent spokespeople of the martial arts community in the United States …. When you watch action movies, these are the highly talented individuals who often perform.
Hollywood, California (PRWEB) August 31, 2016
Gregory Graham is excitedly preparing for the 2016-2017 film festival circuit. He has been very busy writing, directing, producing, hosting and starring in several TV shows, web series and short films. DRAGONFEST 2016 is his first feature documentary.
DRAGONFEST 2016 is nominated at the 2016 Martialcon Film Festival for Best Documentary. This festival will occur as part of the 2016 Action on Film International Film Festival, which is held from September 2nd to September 10th at the Krikorian Monrovia Cinema 12, 410 S Myrtle Ave, Monrovia, California 91016.
This is an informative film that explains several aspects of a variety of martial arts in ways that everyone can understand. The movie also explores their potential positive effects on people's lives. In this film, Gregory attends the martial arts convention Dragonfest 2016 and engages professional martial artists, presenters, and convention goers in a hosting journey to learn about the martial arts. The goal of this feature documentary is to make sure that Gregory's viewers acquire plenty of interesting knowledge in this area from some of the most important martial artists in the United States.
The cast of DRAGONFEST 2016 is full of well-known martial art stars such as Cynthia Rothrock, Casper Van Dien, Don "The Dragon" Wilson, T.J. Storm, Crystal Santos, Carl Vanmeter, Master David Reed, Grandmaster Leo Fong, Roxie Aster from GLOW, Master Steven Barbieri, Art Camacho, Phil Morris, Dan Magnus and Sifu Clark Tang. "Many martial artists do their very best to make sure that people from all backgrounds are exposed to martial arts and enjoy their benefits," Gregory said.
In this movie, Grandmaster Leo Fong, an 87-year-old martial arts instructor, explained to Gregory that "One of the healing arts is the fitness art, so if you want to heal, don't just take medicine, but work out. Every morning I wake up with aches and pains, but after an hour of doing my stretches I am good." Gregory commented with his endearingly humorous dry style, "Well, you look good, whatever you are doing definitely keep it up."
Master David Reed, a Tang Soo Do instructor located at martial arts studio RAMA Northridge told Gregory in the film, "When I was a kid, I was beaten up by some bullies. A close friend of mine was trained by Chuck Norris, so I started taking private lessons from him when I was ten years old and stayed with it. I never stopped, and now I teach others."
The film includes interesting discussions about the action movie "THE MARTIAL ARTS KID" featuring stars such as Don "The Dragon" Wilson, Cynthia Rothrock, T J Storm, Master Steven Barbieri and Crystal Santos. These famous martial artists were interviewed by Gregory and the information he gleaned was not only exciting, but informative as well. The film "THE MARTIAL ARTS KID" and its stars are up for several awards at Martialcon. Gregory shared, "'THE MARTIAL ARTS KID' is an inspirational movie with an anti-bulling message that is important to spread to the community, as it can help people of all ages. I'm excited to see the cast again at AOF because they gave me wonderful interviews and their love for the martial arts is evident in the way they answered my questions. I wish them the very best with their film festival nominations they received in multiple award categories. They work very hard to help others and they deserve to be recognized. I am honored to be nominated for awards at the same film festival as these icons of martial arts."
Moving stories are told in DRAGONFEST 2016. For example, former World Kickboxing Campion Dan Magnus gave an inspiring interview to Gregory. He explained how he was able to come back to compete after receiving open heart surgery due to a broken rib that had punctured his heart during a fight. After having undergone another surgery, about a quarter of his heart is now made of metal. When doctors told Dan that he may never fight again after his first surgery, he trained even harder and became inspired to prove them wrong. He was eventually able to regain his world title despite these adversities. Dan shared in Gregory's movie, "Anyone who says you can't do something, don't believe it. You can always find a way to accomplish it."
"The stars of my movie are among the most prominent spokespeople of the martial arts community in the United States. They are one of the main reasons why martial arts are so popular here. When you watch action movies, these are the highly talented individuals who often perform. Even though the scenes are action packed and exciting, they are performed safely and professionally using martial arts techniques," concluded Gregory.
The official trailer for this feature documentary is available here: https://www.youtube.com/watch?v=YqsHMKMoQCQ.
Written by Stefanie Friesen
Gregory Graham is an award-winning host/actor/screenwriter/director/producer who has been acting since 2000 and has been making movies and web series since 2013. This is the first documentary feature film that he wrote/hosted/directed. Gregory's films and show have won several awards with his projects such as HEAVY METAL GREG, HEAVY METAL GREG GOES TO THE GRAMMYS and FROM SALERNO WITH LOVE. He has over 60 IMDb acting credits and has booked roles in several movies as well as TV series such as CSI MIAMI and TRUST ME.