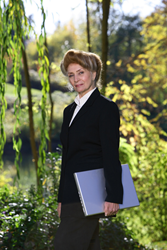 Grants Pass, OR (PRWEB) September 01, 2016
Bio-Logic Aqua® Research Water Life Science® founder Sharon Kleyne recently declared war on Dry Eye Disease, announcing on The Sharon Kleyne Hour Power of Water radio program a new global education campaign. The campaign is ambitiously designed to deliver the facts about Dry Eye Disease and its new water technology treatment to everyone on earth. The new water technology includes a globally patented, personal hand-held humidifier for misting afflicted tear film of the eyes with Trade Secret tissue culture grade water that is painless, fun and effective. This new water lifestyle and its advanced technology already has the endorsements of thousands of medical professionals and scientists around the world.
Dry Eye Disease afflicts millions of people worldwide. In its chronic stage, Dry Eye Disease can develop into severe headaches, glaucoma, cataracts and even blindness. Dry Eye Disease generates hundreds of millions of lost, productive hours in the global workforce every year; it's a condition that only gets worse as you grow older. But just what is this malady, this Dry Eye Disease, and what can one do about it?
Water advocate Sharon Kleyne, founder of Bio-Logic Aqua® Research Water Life Science®, host of The Sharon Kleyne Hour Power of Water radio program and her colleagues have led the way to greater understanding of Dry Eye Disease and to the development of globally patented, advanced technology in Dry Eye treatment.
So, what is Dry Eye Disease? Dr. William D. Mathers explains: "The lachrymal gland produces growth factors, enzymes, proteins and antibodies that are essential to the health of the ocular surface. When the lachrymal gland fails to bathe the eye in sufficient concentrations of these molecules, the ocular surface is compromised and subject to damage and inflammation, which produces dry eye symptoms."
Kleyne says that Dry Eye Disease occurs when the eye's tear film, which is 99 percent water, loses moisture through evaporation of the water vapor, a process that begins at birth and requires that eye moisture be constantly replenished. "No two eyes are alike," Kleyne reminds us. "Each has its own unique water loss, which must be recycled."
This water loss, or evaporation, can be caused by stress, diet, contamination of the water vapor due to pollution, global warming, indoor heating and air conditioning. Recent research by the American Academy of Ophthalmology links Dry Eye Disease in women to the onset of menopause. According to the Academy, autoimmune diseases such as lupus and rheumatoid arthritis can also lead to decreased tear secretion and Dry Eye Disease. Academy research also cautions that many medications, both prescription and over-the-counter can cause Dry Eye Disease by reducing natural tear secretion. Medications to watch out for include diuretics for high blood pressure, sleeping pills, pain relievers, anti-anxiety medications, antihistamines for allergies and beta-blockers for heart issues and high blood pressure. Even the chemicals in eye drops, the Academy warns, can bring on Dry Eye Disease or make it worse.
These many causes can discourage sufferers and obscure the best and simplest, globally patented treatment for Dry Eye Disease. Sharon Kleyne and her research team at Bio-Logic Aqua® Research Water Life Science® made a startling discovery in water, then developed advanced technology to deliver the water to the dry eye. "The globally patented application of 100% tissue culture grade water (not lotions, crèmes or chemicals) in an ultra-fine mist is the only way to add pure moisture back to dry eyes and stop Dry Eye Disease in its tracks," says Kleyne.
Dr. Gerald H. Pollack, Dr. Pollack, Editor-in-Chief of WATER and author of The Fourth Phase of Water, notes that Kleyne and her research center's procurement of the first water-related patent for the micron mist personal humidifier was a breakthrough in water research and new water technology.
Kleyne says that the research and new technology led to the development and release around the world of Nature's Tears® EyeMist®, the only product that is Trade Secret tissue culture grade water and the perfect solution to Dry Eye Disease. A hand-held portable personal humidifier, with a globally awarded patent, delivers the water to the eye in the form of a fine micron mist that is painless and fun to use. "Most important, though," says Kleyne, "is that it works. Dry Eye Disease can't happen, or persist, as long as the eye's tear film has adequate moisture." Because Nature's Tears® EyeMist® is so effective against Dry Eye Disease, Bio-Logic Aqua® Research Water Life Science® has earned global patents and the enthusiastic endorsements of thousands of optometrists and physicians worldwide. For example, University of Arkansas Ophthalmology Professor Dr. Laurie Barber recommends an all-water tear film supplement, Nature's Tears® EyeMist®, for treatment of Dry Eye Disease.
"Water Life Science is a major technological, global breakthrough that is drowning Dry Eye Disease in life-sustaining tissue culture grade water," Kleyne says.