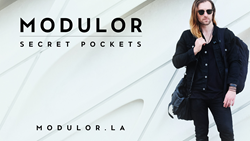 Modulor is MUST have urban travel gear
Los Angeles, CA (PRWEB) September 01, 2016
MODULOR has launched a new line of clothing that serve as a bridge to fashion and technology providing the long needed smartphone pocket in a lifestyle clothing line. They provide secret pockets embedded in their collection, which is a black jean and jacket combination. Modulor refers to their line as a capsule wardrobe, which means a small selection of essential clothing items that don't go out of fashion. The Modulor clothing collection is understated, stylish and versatile. They are targeting a tech-savvy, minimalism audience that understand the need for customized but simple choices in their wardrobe.
Modulor is a mens and womens minimalist lifestyle brand that provides pockets for modern day needs. In the Modulor Modern Jean there are 4 hidden zipper pockets. A dedicated smartphone, an alternate pocket for a minimal wallet and two lower pockets for documents or cash, which are ideal for travel. The smart phone pocket comes with an interior lining to protect the user from cell phone radiation. The wallet pocket is designed so that you don't have to remove your wallet from your pocket when you go to sit down, it is concealed, clever and comfortable. The Modulor Modern Jean has 9 total pockets, they have the 5 standard jean pockets and 4 additional zip enclosure pockets to protect against pickpockets. The Modulor Modern Jacket comes with 10 total pockets, 6 that are traditional to a jean jacket, 3 large zip enclosure pockets; two on the front and one pocket on the back that also create a pouch pocket.
The Modulor Modern Jacket comes with a golden bee pin on it. Modulor chooses to include this accessory pin to help raise awareness about the current plight of the honey bee. Bee populations are dying off at an alarming rate with links to harmful pesticides and cell phone tower radiation. A portion of Modulor's sales will go towards supporting the cause of saving the honey bees. The pin is a symbol to raise awareness to the conversation that we need to move toward living in better harmony with the planet.
The Modulor collection was conceived as a travel piece while on holiday in Europe. After going through the headache of having a wallet stolen by a pickpocket, the founder devised a better way to travel with simple hidden zip enclosure pockets to protect this from ever happening again. Also, a large influence to the Modulor clothing capsule came on the heels of the founder's mother having thyroid cancer. Thankfully she is ok after having it removed, but research uncovered documented evidence linking cell phone radiation to brain and thyroid cancer. Modulor was built to raise awareness that we are the first generation to be regularly carrying cell phones 24/7. The pursuit was to find a simple way to protect against cell phone radiation. Modulor uses a fiber lined fabric in the cell phone pocket that protects the user from harmful effects of cell phone radiation. In addition, the position of the cell phone pocket is on the side of the leg, which increases the distance from sensitive reproductive organs.
The Modulor clothing collection is intended to protect travels of from the dangers of pickpockets and cell phone radiation.
Retail cost: $220
Where to buy: http://www.modulor.la