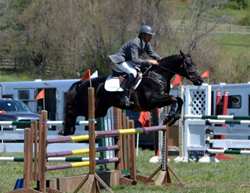 San Antonio, Texas (PRWEB) August 31, 2016
After an all-consuming two-year stint as the volunteer Fourth Vice President of the San Antonio Conservation Society/Chairman of "A Night In Old San Antonio" (NIOSA)—a position that requires full-time attention for the year leading to NIOSA and 80-hour weeks for the weeks immediately preceding, during and following the event—most people would sit back and relax.
Not Christine Turner.
In her characteristic style (full speed ahead and damn the torpedoes!), the San Antonian has ventured into an area where few women and even fewer Texans have gone: the world of equestrian competition, dressage, Three Day Eventing, and breeding Eventing-specific riding horses. Her equestrian center is Indian Creek Farm, just north of San Antonio.
Chris was part owner of a horse that competed the Olympic Games in Rio. Blackfoot Mystery with rider Boyd Martin started out strong with a solid scoring in the first round, landing them in 5th place out of 65. However, despite powerful first showings, they finished in 35th place.
Besides this Olympic contender, Chris and her husband Tom E. (TJ) Turner IV are also the full or partial owners of 17 other horses—many that have been partnered with some of the top riders in Eventing and competed in the 2014 World Equestrian Games in France. Upcoming competitions are listed at the end of this e-mail.
How did Chris get into the equestrian world? In her words: "No one in my family is an Eventer. I am the only horse person in my family, mainly interested in Western pleasure riding and Arabian horses. But then my husband and I purchased Indian Creek Farm, a wonderful historic farm on Indian Creek in Spring Branch, for us to enjoy on weekends. The previous owners were interested in Three-Day Eventing and Trakehner horses, topics completely unknown to me. Our daughter Tommie took to the English style of riding, and so, in a very short period of time, we have been fully 'cured' of that ignorance…..and love it! Thank goodness I had mentors like Diane Pitts, president of the United States Eventing Association, and Dr. Tim Holekamp, past president of the American Trakehner Association."
And yes, some lessons were learned the hard way: dishonest trainers; Hill Country flooding that reaps havoc on the farmland; and seemingly never-ending repairs. But all those lessons have resulted in Chris "graduating" at the top of her class as:

owner and operator of one of only a few equestrian farms in ALL of Texas and the only one in central Texas
full owner of Eventing training farm in Florida
distributor of Cavalor, a specially-made horse feed out of Belgium made with the highest quality ingredients
breeder of horses that highly successful riders want to ride in competition
full owner of Tsetserleg (Thomas)- named "Preliminary Champion Horse of the Year 2014" by United States Eventing Association (USEA) and "Champion Horse of the Year by American Trakehner Association" (ATA). Also Performance Silver award winner, given for performance record by the American Trakehner Association.
full owner of Halimey Go (Hal)- named "Third in the Nation Intermediate Horse" by USEA; "Champion Horse of the year, Intermediate" by ATA; and Stallion of the Year 2015" by USEA. Also Performance Silver award winner, given for performance record by the American Trakehner Association.
full (and former) owner of Tupelo (Tuppie)-- named "Fourth in the Nation for Future Young Event Horse" by USEA and "Reserve Champion Horse of the Year, Training" by ATA. Chris sold Tuppie to
Maddie McElduff in 2014 as a favor to her father who was dying of cancer. Chris hopes to buy Tuppie back because "she is the only horse I've ever been able to lay down with in her stall"

part owner of Manoir De Carneville (Tate)- named "Horse of the Year" in 2012 by the United States Equestrian Federation, and represented the USA in the World Equestrian Games (and was an alternative for the Rio Olympics)
(And if you are wondering what "Three Day Eventing" is, the equestrian sport of Eventing was first introduced at the Olympic Games in 1912 with a Dressage test on the first day; an Endurance test on the second with road and tracks tests followed by a steeple chase; and Show Jumping on the third day. More complete info can be found at http://www.eventingnation.com; individual scores for her horses for competitions are posted at useventing.com.)
More on Chris and the farm can be found on Facebook.com/IndianCreekFarmLLC and the farm's website at http://www.indiancreekfarm.com/ (in the process of being updated). And oh yes, she still volunteers with the Conservation Society as it 5th VP in charge of budget. No small task!
As excited as Turner was with the Rio Olympics, she is just as excited about the future. Her vision for the next few events in 2016 are focused in on her other three horses—two of which Turner owns and trains herself: Tsetserleg ("Thomas") and Tokyo Red (Kyra); and Manoir De Carneville, who Turner partially owns.
Tsetserleg (ridden by Boyd Martin) and Halimey (ridden by Buck Davidson) will be in Tryon, NC this weekend, competing in the USEA American Eventing Championships (AECs), a prestigious competition with the best in the nation.
After Championships, Chris flies to Pennsylvania to visit Kyra and Tsetserleg, and then to visit Halimey at Bruce Davidson's legendary farm. In mid-September Tsetserleg, Tokyo Red and Manoir De Carneville will be facing off at the Plantation Field International CIC Horse Trials in Coatesville, PA.
Chris would be happy to share lessons, as she had gone through her "Fiesta to Farm" adventure.
Call or email me to set up a tour and interview.