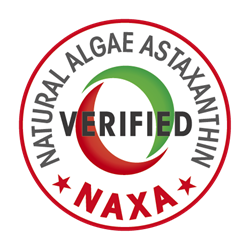 Independent third party testing of products goes hand in hand with consumer confidence.
Salt Lake City, Utah (PRWEB) August 31, 2016
Today the Natural Algae Astaxanthin Association announced that the full line of Nutrex Hawaii's BioAstin Hawaiian Astaxanthin® products are the first retail astaxanthin products to receive the verification seal. The new NAXA Verification Program (NAVP) involves testing products available to consumers to verify they contain natural algae astaxanthin derived from Haematococcus pluvialis algae.
"NAXA tests each manufacturer's product at independent labs using the most advanced methods, including the United States Pharmacopeia standard," said Scott Steinford, NAXA President. "This analysis confirms that the source of the astaxanthin in BioAstin is from Haematococcus pluvialis algae."
Astaxanthin derived from Haematococcus pluvialis is the only type of astaxanthin that has been clinically proven to have health benefits in human studies. Numerous studies from around the world have established the use of natural astaxanthin produced from Haematococcus pluvialis as a potent antioxidant with proven beneficial effects for human health.
"We are proud to achieve this recognition and to be the first to receive the NAXA seal for our retail products," said Jen Johansen, Vice President of Quality & Regulatory Affairs, Cyanotech Corporation/Nutrex Hawaii. "Independent third party testing of products goes hand in hand with consumer confidence. We appreciate that NAXA provides this verification program; it's a valuable part of any ingredient trade association."