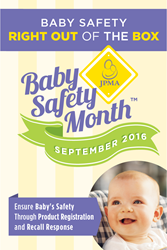 Helping parents understand the product registration process will remove fear, improve product registration participation, and protect children in the event of a recall
Mt. Laurel, NJ (PRWEB) September 01, 2016
September is Baby Safety Month. Baby Safety Month started in 1983 when the Juvenile Products Manufacturers Association (JPMA) initiated "Expectant Mother's Day." In 1986, it was extended to a week-long celebration, until 1991 when the first "Baby Safety Awareness Month" was held. Since then, September has been designated as Baby Safety Month. This year JPMA is pleased to celebrate Baby Safety Month with the 2016 theme of, "Baby Safety Right Out of the Box," designed to educate parents on the importance of product registration cards and recall response.
Supported by leading baby safety advocacy groups, "Baby Safety Right Out of the Box," helps explain what the product registration process is and what happens in the event of a product recall. What do those little registration cards in every box even mean to parents and consumers, and why are they important? The truth is, taking a few minutes to fill out and submit a product registration card is the best way to effectively manage recalls and ensure baby is using the safest products. Knowing about and responding to product recalls is important. While a recall may seem scary, they demonstrate that the manufacturer is committed to creating safe products.
This Baby Safety Month, JPMA offers reasons why parents should register baby products. First, through product registration, parents can establish a direct line of communication with the manufacturer should a problem arise with a purchased product. Second, if there is a safety announcement or recall associated with a product, the manufacturer can contact the parent directly to provide further details on what to do with the recalled product. Third, although recalls are announced and promoted in various ways, parents often miss public announcements. Product registration is an easy way for information to be provided to parents directly and efficiently.
According to a recent August 2016 BabyCenter.com/JPMA poll of more than 1,100 parents, only 33 percent "Always" register their products, 39 percent "Sometimes" register their products, and 28 percent "Never" register their products. However, when asked how often they check to ensure their baby products have not been recalled, shockingly, less than 5 percent reported they "Always" check, while 46 percent said they "Sometimes" check and 49 percent "Never" check.
"This poll demonstrates an urgent need for parental education around product registration and recall awareness," explained Julie Vallese, JPMA spokesperson and mom of two. "Helping parents understand the product registration process will remove fear, improve product registration participation, and protect children in the event of a recall."
During Baby Safety Month 2016, JPMA will highlight safety information on product registration cards, what parents need to know about product recalls, and safety concerns with recalled, second-hand products. JPMA will offer weekly safety bulletins for parents, which include safety tips and great little tidbits for surviving parenthood. Additionally, JPMA will offer weekly prize bundle giveaways, ranging from infant carriers to car seats, which may be found through the Baby Safety Zone Facebook and Twitter pages.
Visit http://www.BabySafetyMonth.org for insight into creating the safest environment for children and ensuring that parents are as informed as possible regarding the safety of the products they purchase. Also learn how easy it is to register baby products, why recalls happen and how to handle them. Be sure to check back often for new tips and prize giveaways every week throughout the month of September.
About the Juvenile Products Manufacturers Association (JPMA)
The Juvenile Products Manufacturers Association (JPMA) is a non-profit association representing leading manufacturers who make prenatal to preschool products for the North American market. The JPMA serves as an advocate for the industry and is committed to ensuring the safe use and selection of juvenile products. Each September, the JPMA celebrates its Baby Safety Month initiative, heavily promoting the campaign's messages through its consumer brand, the Baby Safety Zone.
To find out more information about the JPMA, its programs and its members, visit http://www.jpma.org. Follow JPMA on Twitter @JPMA, connect with JPMA on Facebook or on YouTube. Parents, caregivers and consumers should visit http://www.BabySafetyZone.org.