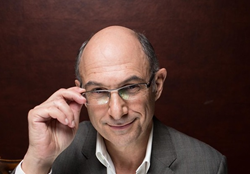 While this election is unpredictable, one's everyday and long-term money decisions should not be,
Boca Raton, FL (PRWEB) September 02, 2016
Because the 2016 election is clearly the most important election in a generation, On The Money Radio is hosting "Planning for the Election Effect: In Pure Dollars & Sense", an "up-close-and-personal" interactive evening with OTMR Show Host Steve Pomeranz, CFP® "The Investor's Advocate" on Thursday, September 22nd at 7 pm at Renaissance Boca Raton Hotel, 2000 NW 19th Street.
Respected as "The Investor's Advocate", Pomeranz will share an exclusive, in-depth look at each candidate's platform and define their impact on consumer and business money decisions—from spending and taxes to savings and investments—and then empower attendees with best strategies for prospering in this unprecedented time. Following his candid, insightful keynote that will include a review of historical "election effect" trends and their relevance in today's political and financial landscapes, Steve will open the mic for an audience Q&A.
"While this election is unpredictable, one's everyday and long-term money decisions should not be," noted Pomeranz. "The hysteria over contentious candidates that are sparking a variety of unsettling concerns has left many paralyzed from planning or taking a wait-and-see attitude to their money decisions until the election declares a victor, … but this is clearly not a good strategy. The current 2016 presidential candidate platforms with contrasting "Carrot and Stick" ideas are destined to have a historic impact on the future of personal and business money decisions for the next four years and beyond. Folks need to understand how they can prosper during this unnerving time."
Pomeranz added that "while the average citizen is focusing on election issues that are important to their belief systems—such as immigration and national security—many are not understanding or even thinking about what each candidate's platforms, cabinet picks, and belief systems will have on their wallets. They actually are not even wondering how each candidate will impact their day-to-day spending habits and taxes or their long-term savings for their American Dream…whether that includes a home, college, launching a business, travel, or investments for retirement."
He continued to note that this interactive opportunity will be especially of value to those saving to buy a home or fund a child's college education, starting or acquiring a business in a variety of industries, job seeking, considering a career track change, newlyweds and empty nesters, and/or planning for or in retirement.
During the evening, attendees will learn:
How This Election Could Impact Their Money Decisions And Their Future

Understand what to look for during presidential cycles
Learn how each candidate will affect their investments
Election Speak

Why chasing political news and headlines won't work
Understanding stock market cycles for the S&P 500
Learn potential investment strategies based on political cycles
How To Focus On Solutions They Can Control

Understanding where they are – and where they're going
Finding out what it takes to make sure their money lasts the rest of their lives
How To Reduce Anxiety About One's Financial Future

Understand a fresh new way to manage risk in investment portfolios
Break free from what Pomeranz calls the "Buy High, Sell Low, Repeat Until Broke" Syndrome
Steve Pomeranz, CFP® has been an investment strategist and adviser for over 35 years who leads with the mission of "unbiased advice" to educate and protect his listeners to make smart financial decisions. He educates the public through his weekly radio show On The Money Radio airing on NPR affiliates, Public Radio Stations, and via podcast across the country for the past 15 years. The show and podcasts educate and protect listeners with money advice covering the entire financial spectrum—from money rebates and rip-offs, to smart shopping, wise investing, retirement issues, and so much more.
Steve's OMTR show features market commentaries and insights as well as interviews with many experienced and well-known guests from all corners of the business world. These guests have included Shark Tank's Daymond John and Barbara Corcoran, Tony Robbins, Maria Bartiromo from Fox Business News, and Mohamed El Erian to name a few. He works regularly with CNBC and other notable media outlets and has been featured on ABC News, Marketwatch, Bloomberg, CNBC, and The Wall Street Journal. Steve has been selected as a "Top 100 Wealth Adviser" by Worth Magazine and "Top Adviser" by Reuter.
There is no fee for attending "An Evening With Steve Pomeranz" but since seating is limited, registration is encouraged. To register, visit onthemoneyradio.com or call (561)362-7850.