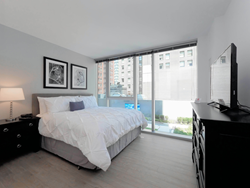 It is an exciting time to be part of all the development and corporate activity in Milwaukee Metro.
Chicago, Illinois (PRWEB) September 01, 2016
"Suite Home Milwaukee" is open for business!
The team at Suite Home Chicago is excited to announce their recent expansion into the Milwaukee market, offering luxury, corporate apartments within the city limits and its' surrounding suburbs. With a dedicated team in place, our clientele can expect the same great Suite Home service in this newest location.
"Our corporate clientele has been asking us for years to set up fully furnished apartments in Milwaukee," Suite Home owner Jennifer Breen said. "Our team prides itself on knowing the Chicago area like the back of our hand, and we just did not want to set up apartments in Wisconsin until we felt comfortable knowing the market like we know our hometown."
Breen continued, "After 9 months of quietly setting up apartments and learning everything we can about Milwaukee and its suburbs, we felt the time was right to establish our position in the market."
Currently, Suite Home offers temporary furnished apartments in downtown Milwaukee, and in nearby suburbs Brookfield, Oak Creek, and Wauwatosa.
This expansion is also a coming home for Suite Home Business Development Manager Jennifer Gams. A Green Bay native, Jennifer said, "It is an exciting time to be part of all the development and corporate activity in Milwaukee Metro." Gams continued, "And the bonus is I do not have hide my Green and Gold anymore!"
About Suite Home Chicago
Established in 2005, Suite Home Chicago offers luxury furnished, corporate apartments with flexible leasing terms throughout the Chicagoland (and now Milwaukee) area. The units are fully equipped with modern furnishings, luxury linens, and all the housewares needed for a temporary stay. The Suite Home staff strive to provide guests a "home away from home" experience, and are equipped to handle large corporate groups, project work, relocation, medical travel, entertainment crews, interns, and government travel.
Suite Home Chicago is a WBE-certified woman-owned business and a CCHP (Certified Corporate Housing Providers) Accredited member of the Corporate Housing Providers Association (CHPA), a professional trade association exclusively dedicated to supporting corporate housing providers. Suite Home Chicago owner Jennifer Breen is a certified Corporate Housing Professional (CCHP) and a member of planning committee for the Corporate Relocation Council (CRC). To learn more about Suite Home Chicago corporate housing, visit http://www.suitehomechicago.com, contact the company headquarters at (312) 638-0891 or email sales(at)suitehomechicago(dot)com.