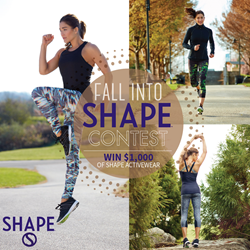 "A new season is the ultimate time to put performance and comfort to the test, and with our fall collection expanding its market presence, we invite people to enjoy the depth and uniqueness our brand has to offer."
New York, NY (PRWEB) September 01, 2016
SHAPE® activewear is launching a new contest, "Fall Into Shape" starting on September 1, 2016. The grand prize is a gorgeous new ultra-performance wardrobe of SHAPE apparel worth $1,000. Visit the contest link to enter.
The SHAPE activewear collection weaves the personality of SHAPE® magazine into a fashionable and functional new apparel line for women. Now available in more than 100 locations nationwide, SHAPE unites technology and design to offer ultra-chic performance apparel for women who want to feel good and look good. In addition to incredible apparel features, every SHAPE activewear purchase comes with a free one-year subscription to SHAPE magazine.
"A new season is the ultimate time to put performance and comfort to the test, and with our fall collection expanding its market presence, we invite people to enjoy the depth and uniqueness our brand has to offer," says Sheena Mahtani, Brand Director for SHAPE activewear. "Our focus on performance begins before the fabric is even created, with the help of our material scientists," she says. "Whether it's a revolutionary technology like 3-color glow in the dark, or our signature S-seam legging feature, which dynamically enhances a woman's lower half, we tailor the piece to complement her end use. The result is an exquisite blend of beauty, technology and sophistication. We invite people to enter to win our Fall Into Shape sweepstakes and get into SHAPE with us," she adds.
To participate in SHAPE activewear's Fall Into Shape sweepstakes, please visit: vip.shapeactive.com/contest. For additional information about the new collection including imagery or a lookbook, please contact: Amy Yanda-Lee 303-526-6774 or amy(at)shapeactive(dot)com.