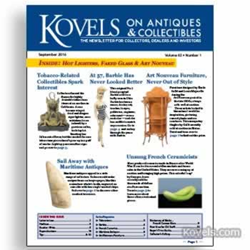 Cleveland, Ohio (PRWEB) August 31, 2016
Vintage Barbie dolls were auctioned in Ohio and are featured in a sale report in Kovels on Antiques and Collectibles September 2016 newsletter. Since 1959, Barbie and her fashionable clothes and accessories have reflected the styles of the times. See pictures and prices of pre-1973 Barbie dolls, as well as Francie, Barbie's "mod" cousin, that sold from $10 to $2,000. Smoking may have fallen out of favor, but the market for tobacco-related antiques sure hasn't burned up. Smoking-related items were sold at a California auction where figural lighters sold well. Kovels' latest issue pictures lighters shaped like devils, dragons, a hunting dog, an art deco bartender, and even a desk holding a love letter that brought over $3,000. And prices were high for French post-war ceramics at two spring auctions in Paris. Pieces with clean, modern lines by prominent makers Georges Jouve and Roger Capron are pictured with prices—some in the tens of thousands—in Kovels' September newsletter.
Art Nouveau furniture with its curvy lines and naturalistic decoration always attracts collectors and a Maine auction featured its largest offering ever. Included were pieces by Emil Gallé and Louis Majorelle, two of the most desirable names in French Art Nouveau design. Find pictures of tables with delicate marquetry that brought prices up to $7,700 in Kovels' September issue. And maritime antiques sold in an online auction from $50 to $10,000. The auction featured many nautical-related "crossover" pieces that also had appeal to collectors of scientific instruments, tools, folk art and other collecting categories. Kovels' pictures examples with prices and descriptions.
A birdhouse made from a metal watering can provides a "new use" for an old item, and a reader shares a story about the unicorn fur clip she bought online. The popular illustrated Collector's Gallery answers readers' questions about a modernist style brooch, bronze letter opener, 1898 calendar, and a "whatsit" that seems to have stumped even Kovels' experts.
Kovels on Antiques and Collectibles is available as a print subscription, or as a digital version that is part of the Kovels.com Premium subscription.
Terry Kovel is America's foremost authority on antiques and collectibles. She is the well-known columnist and author of more than 100 books on antiques and collecting. With her daughter, Kim Kovel, she co-authors the best-selling annual Kovels' Antiques and Collectibles Price Guide. The 2016 edition is now available at Kovelsonlinestore.com and local bookstores. They will discuss antiques and collectibles topics with accredited media. Photographs are available. Contact pr(at)kovels(dot)com.
About Kovels.com
Kovels.com, created by Terry Kovel and Kim Kovel, provides collectors and researchers with up-to-date and accurate information on antiques and collectibles. The company was founded in 1953 by Terry Kovel and her late husband, Ralph. Since then, the Kovels have written some of America's most popular books and articles about antiques, including the best-selling Kovels' Antiques and Collectibles Price Guide 2016. The website, Kovels.com, online since 1998, offers more than a million free prices, and includes a free weekly email, "Kovels Komments." It gives readers a bird's-eye view of the market through the latest news, auction reports, a Marks Dictionary, readers' questions and answers and much more.
Contact Information:
Liz Lillis
216.752.2252
Pr(at)kovels(dot)com