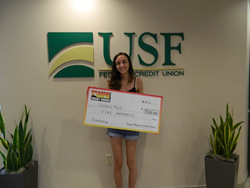 Earning this scholarship takes my mind off financial pressures and I can focus more on my academics. - Stefanie Palfi
Tampa, FL (PRWEB) September 27, 2016
USF Federal Credit Union (USF FCU) is excited to announce that their member, Stefanie Palfi, has been selected as one of three recipients for the 2016 Carolyn Parslow Scholarship. The Carolyn Parslow Scholarship was created with the purpose of helping high school seniors go after their dreams. To be eligible, applicants must be a member of a credit union affiliated with the Tampa Chapter of Credit Unions and display academic, extracurricular and community achievements.
This summer, Palfi graduated from Hillsborough High School with ambitious goals for her future. She will attend the University of South Florida's Tampa campus in the fall and plans to major in biomedical sciences with a minor in psychology. Palfi has demonstrated an aptitude for chemistry and hopes to translate her degree into opening her own pediatrics practice one day. When asked what her main motivation is, Palfi said, "I want to be able to help people and have the knowledge to do it right."
Palfi has participated in many organizations; including, Family, Career and Community Leaders of America (FCCLA); Peer Motivation; Students Working Against Tobacco (SWAT); and SkillsUSA. Her volunteer experience with Metropolitan Ministries was particularly rewarding and led her to pursue a medical degree. Since Palfi graduated high school, she has shown impressive determination by applying for several scholarships. In her words, "Earning this [Carolyn Parslow] scholarship takes my mind off financial pressures and I can focus more on my academics." USF FCU is proud to be a part of the Tampa Chapter of Credit Unions and support students, like Palfi, with continuing their education.
To donate to the Carolyn Parslow Scholarship Fund, make checks payable to:
Tampa Chapter of Credit Unions
C/o Carolyn Parslow Scholarship Fund
PO BOX 11904
Tampa, FL 33680
The Tampa Chapter of Credit Unions is made up of area credit unions whose goal is to raise credit union awareness; support its affiliated credit unions by providing educational events for employees; and contributes to community development, charitable causes, and political action that support the credit union movement.
Founded in 1959, USF Federal Credit Union offers a full range of financial services to the faculty, staff, students, alumni association members, and their families worldwide in addition to the organizations with employees on the campuses of the University of South Florida. USF FCU recently expanded membership to include employees of Darden Restaurants, Inc., Red Lobster employees and numerous businesses across the Tampa Bay area.
For more information about USF Federal Credit Union, contact them at 813-569-2000 or visit their website at http://www.usffcu.org.