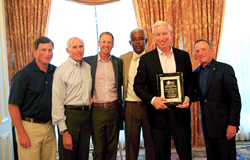 L-R: John Stevens, Merrill Lynch; Kenneth Kolmin & Marcus Montanye, LCI Event Co-Chairs; Shawn Jeffers, Executive Director of Little City; John F. McDonough, President and CEO of the Chicago Blackhawks; Ed Hockfield, CDO for Little City.
Palatine, IL (PRWEB) September 01, 2016
Little City's 53rd annual Little City Invitational Golf Classic was a tremendous success, raising over $280,000 for children and adults with developmental disabilities.
Approximately 160 golfers gathered at the renowned Twin Orchard Country Club on Aug. 22nd for the Little City event which is recognized as one of the most prominent and established charity golf tournaments in the Greater Chicago area.
In memory of Morrie Kellman, creator of the Little City Golf Classic, the organization honored John F. McDonough, president and CEO of the Chicago Blackhawks.
The Morrie Kellman Humanitarian Award is presented annually to a friend of Little City and the community who embodies Mr. Kellman's spirit of giving.
The partnership between the Chicago Blackhawks and Little City has already proven to be a big win for people with developmental disabilities thanks to John McDonough's passion and commitment to Little City's mission.
In addition to offering several Chicago Blackhawks game day packages that raised thousands of dollars for Little City, McDonough and the Blackhawks also contributed to Little City's Fund-A-Need, a much needed sensory and therapeutic gym.
"John McDonough and the Chicago Blackhawks have been a leader in supporting important causes in the Chicago area for years," said Little City Executive Director Shawn E. Jeffers. "We're extremely proud to recognize John McDonough's dedication to Little City and look forward to a strong relationship with John and the Chicago Blackhawks for years to come."
This year's LCI sponsors included the Chicago Blackhawks, RSM US LLP, The Private Bank, Wipfli LLP, Breakthrough Beverage Illinois and Daily Herald.
###
THE NEW LITTLE CITY - A VITAL & VIBRANT COMMUNITY
For more than 50 years, Little City has developed innovative and personalized programs to fully assist and empower children and adults with autism and other intellectual and developmental disabilities. With a commitment to attaining a greater quality of life for Illinois' most vulnerable citizens, Little City is A Great Big World that actively promotes choice, person-centered planning and a holistic approach to health and wellness.
Our mission is to be a leader in providing the best options and opportunities to live safely, learn continuously, explore creatively and work productively. To inspire, innovate, advocate and pursue success with passion and purpose, and to create hope, happiness and optimism for individuals with disabilities and their families.
For more information, visit http://www.littlecity.org