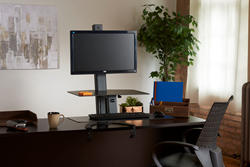 Adjustable standing desk developer, HealthPostures, saw the benefits of standing while working more than a decade ago.
Prior Lake MN (PRWEB) October 18, 2016
HealthPostures announces that it has taken Steno Works on as a new dealer. Through this arrangement, the ergonomics adjustable standing desk company and Steno Works aim to offer ongoing physical support to the thousands of adults working as a court reporter.
Leaders at both companies realize that few jobs in the United States demand that workers sit for extended periods the way that the court reporter role does. Effects of long term sitting are becoming more widely known. Migraines, neck pain, back strain and lower energy and weight gain are unwanted conditions that have been known to develop for adults who sit for hours at work.
Adjustable standing desk developer, HealthPostures, saw the benefits of standing while working more than a decade ago. The standing computer desk ergonomics company has been designing ergonomics sit to stand solutions since the 1990s. Included among its sit to stand solutions are the 6100 TaskMate Executive, 6350 TaskMate Go, 6360 TaskMate Go Laptop and the 6200 TaskMate Journey,.
HealthPostures' ergonomic sit to stand chairs are built to provide motion seating. The chairs come in three designs. There is the 5100 Stance Angle Chair, 5000 Stance Move and the 5050 Stance Move EXT. It's these ergonomic sit stand chairs that immediately align with ergonomic sit/stand chairs, sit to stand desk risers and ergonomic desks available at Steno Works.
Steno Works also offers carpal tunnel books and accessories. Although the company tailors its products and services for court reporters, office workers specializing in other fields are welcome to take advantage of the company's services and products. Because it specializes in products and services that seek to improve the court reporter's working experience, Steno Works is also referred to as The Court Reporting Store.
Executives at Steno Works share that, "The Court Reporting Store is the most trusted name in new and pre-owned court reporting equipment: we have the best selection, the best service and the best value for today's discriminating consumer."
Currently, Steno Works is highlighting HealthPostures' accessories like the 6254 Surface TaskMate and the 6252 Surface TaskMate, two stand up office desk products that are used in conjunction with a variety of desktop surfaces. Both Steno Works and HealthPostures currently offer free shipping on select items.
About HealthPostures
Founded in the 1990s, HealthPostures LLC (https://healthpostures.com) has been a leader in the workplace solutions space for more than two decades. The company specializes in the design and manufacturing of workplace solutions like adjustable computer stand for desk, computer monitor stands for desk, sit stand keyboard designs and ergonomic sit stand chairs. Products that HealthPostures develops may help to relieve back and neck pain, headaches and other musculoskeletal disorders. A primary mission of HealthPostures' is to "strive to provide quality products that will help transform your sedentary life so you have a healthy way to work." Sought after ergonomics stand up desk equipment, including popular electric standing desks products, that HealthPostures designs include surface Taskmates, the TaskMate Go Laptop, dual monitor sit stand work stations and Stance move seat extensions. The company's strong reputation and proven products and accessories continue to attract regional and national distributors and resellers.
Contact:
HealthPostures LLC
16801 Industrial Circle
Prior Lake, MN 55372
800-277-1841
https://healthpostures.com
About Steno Works
Steno Works stocks and sells products that support court reporters. In addition to offering ergonomics products, Steno Works support court reporters by offering equipment leasing, writer rentals and educational materials. Through its loyalty program, customers earn points that yield cost savings on products and services throughout the store. Customers can contact Steno Works via telephone, email or online chat. The company's top priority is customer service. It services court reporters located throughout the world.
Steno Works
5280 10th Avenue, N. Suite D
Greenacres, FL 33463
(800) 399-4605
info(at)stenoworks(dot)com
http://www.stenoworks.com/