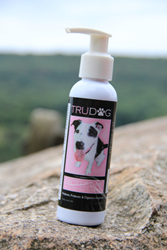 Cincinnati, OH (PRWEB) September 02, 2016
Informa Exhibitions has named Protect Me by TruDog as one of its finalists for the 2016 SupplySide CPG Editor's Choice Awards.
Five 2016 consumer packaged goods (CPG) products were selected by the SupplySide editorial team for achievements in innovation and market impact in 22 different categories. TruDog's Protect Me pet probiotic was named to the short list in the pet/animal supplements category.
One winner in each category will be announced at SupplySide West 2016 during the SupplySide CPG Editor's Choice Awards Presentations, set for October 4-8 at the Mandalay Bay Resort in Las Vegas, Nevada.
"We are beyond thrilled to be receiving such an award. Our Protect Me probiotic is unlike any other probiotic out on the market for dogs and cats today," says Lori Taylor, Founder and CEO of TruDog, "We know that your pet's ability to digest and absorb nutrition is the upmost importance to their health. This is why TruDog created a human grade probiotic with over 5 billion organisms per gram, and a formula that will transform your pet's system into a digestive powerhouse."
All of TruDog's products have one goal in mind; helping your dog or cat live a longer and healthier life through of proper nutrition. Their Protect Me pet probiotic is formulated in a delicious gravy that any dog or cat will devour, adding ease to the process of keeping your pet healthy. Simply adding a pump to their meals will keep their digestive tract healthy and thriving. TruDog also has a suite of food, treats, supplements and grooming products that aim to keep your furry friend healthy from nose to tail.
For more almost 20 years, SupplySide has helped dietary supplement, food, beverage, personal care and cosmetic professionals find information to explore, discover, innovate and market their next best-selling product.
"In the past few years we've had tremendous success highlighting the products that are coming to market, driven by the innovative ingredients highlighted at SupplySide," said Heather Granato, vice president, content, in Informa's Health & Nutrition Network. "In considering hundreds of products, our team narrowed the field based on the unique positioning and ability to serve consumers with truly cutting-edge products."
For more information, visit supplysideshow.com.
About TruDog: TruDog is an all-natural pet food and nutrition company based in Cincinnati. This family-owned company is passionate about pet health and wellness. With all of its products being natural and holistic, TruPet is changing the way people view their pet health. TruPet is the parent company to TruDog, which focuses on dog food and health. Visit http://www.trudog.com for more information.
About SupplySide West: Hosted by Informa Exhibitions,this annual tradeshow and educational forum is the finished product manufacturer's gathering place for top performers, trends, scientific advances and networking. SupplySide West is all about the exploration, discovery, innovation and marketing strategy around the development of finished consumer goods that drive the global business economy. The 2016 show will be held October 4-7at Mandalay Bay in Las Vegas. For more information visit http://www.supplysideshow.com.