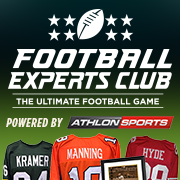 Louisville, KY (PRWEB) September 01, 2016
Fall is in the air. While that still conjures images of leaves turning colors, the smells of freshly-baked goods and the feel of cooler weather, it also triggers that time-honored question: Are you ready for some football? And with that comes the thrill of selecting game winners throughout the season.
In that spirit, Discount Labels is pleased to announce the 2016 Discount Labels Pro Football Experts Club contest, powered by Athlon Sports, the leading preseason and pre-game sports content publisher.
Seventeen rounds of weekly prizes will accompany a grand prize featuring a Peyton Manning-autographed Denver Broncos jersey complete with case. To participate, follow these simple steps:
1. Create an account. Head over to the Registration page and complete the information to create an account. The information is collected to notify prize winners and will not be given out.
2. Research the match-ups. Each week weekly news items are provided about pro football from Athlon Sports. Click here to check out Athlon "deep sleepers" for the upcoming season to know more about players who may come out of left field to make a difference.
3. Make the picks. Click on the "My Picks" tab and select a winner for each matchup presented. Next to each team will be their season record and their hot/cold indicator, which tells if they've won or lost three or more games in a row. Finally, predict the score for the Bonus Game (used as a tiebreaker) and then click "Submit Picks."
4. Check the standings. After all games are over, log back in and check the "Standings" page. The Statbox in the upper corner of the homepage will show the current standings, check out the "Standings" page for more detailed results.
For a little "light reading" to get more familiar with the Athlon Football Contest rules, check them out here.
About Discount Labels:
Discount Labels specializes in die cut labels, premier labels, durable labels, UL labels, variable data labels, printer labels, magnets, stamps and promotional products for every industry including automotive, construction, healthcare, manufacturing, restaurant and retail. Discount Labels sells through the largest authorized label distributor network in the U.S. and Canada. Eligible dealers are active in one of the following industries: printing, graphic arts, specialty advertising, business forms, packaging and shipping, signs, banners, rubber stamps, or office products. Established in 1965, Discount Labels has grown to be America's largest wholesale label supplier. Find more information at http://www.discountlabels.com and visit us on Facebook, Twitter and Google+.