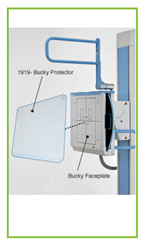 An ounce of prevention is worth a pound of cure.
Ann Arbor, Michigan (PRWEB) September 02, 2016
In the radiographic field, ongoing pressures to maintain quality while serving more people puts demands on every budget. Many hospitals and clinics are deeply focused on large expenditures in technology, while working on increasing patient satisfaction and healthy outcomes. Simple devices are often overlooked, but now is the exact right time to consider those little accessories that are going to reap benefits far beyond their cost. One new product the budget- conscious radiology department should consider has recently been designed and is about to be launched.
Clear Image Devices LLC. will be presenting a new product at the 2016 Radiological Society of North America Annual Meeting in Chicago. In accordance with CID's specialization in manufacturing specialty X-ray and ultrasound positioning equipment, the newest product is designed to avoid wall bucky faceplate damage, which can be incurred during positioning, exam room cleaning, or other activities. This effective new product is the Bucky Protector, an easy to attach, easy to remove, easy to clean, shield against wall bucky faceplate damage. The Bucky Protector is an excellent choice for extending the life of a bucky faceplate and prevent imaging delays or costly repairs. For the first time ever, this unique new product will be on display at the RSNA 2016 Annual Meeting, Booth 6711.
The Bucky Protector is available through CID's extensive network of dealers, and on the website, http://www.clearimagedevices.com.
Clear Image Devices can also be found on Attainia Capital Planning Solutions.
Release Date Aug 31, 2016
Clear Image Devices
3930 Michael Rd. North
Ann Arbor, MI 48103
734-474-6537
Contact Person: Kristine E. Squiers