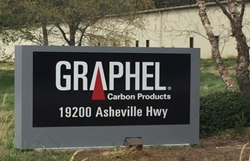 Our South Carolina location provides improved facility utilization, minimizes transportation costs and will position our organization for continued growth". Dave Trinkley, President Graphel Corporation
Cincinnati, OH (PRWEB) September 01, 2016
Graphel Corporation, a global leader in Precision Graphite Solutions for aerospace, power generation, medical and tool & die industries, today announced it has moved one of its manufacturing facilities from Waterbury, CT to Landrum, SC. The relocation is to a modern, 30,000+ square foot manufacturing facility, and is expected to begin manufacturing operations in mid-September 2016.
"These actions are difficult yet unavoidable, and we regret the impact on our employees," said Dave Trinkley, President or Graphel Corporation. "Our industry is in the midst of unprecedented technological change, and we must accommodate our customers. Our South Carolina location provides improved facility utilization, minimizes transportation costs and will position our organization for continued growth."
This move positions Graphel Corporation with three strategically placed US locations; West Chester (Cincinnati) OH, Ramsey (Minneapolis) MN and Landrum (Greenville) SC., and will provide opportunities in a fast growing region of the US. The location will allow Graphel to provide stronger regional support, increased capabilities and a high level of responsiveness.
"We remain committed to providing outstanding service to our customers," Trinkley said. "As we transition production from Waterbury to Landrum, we intend to ensure that customers continue receiving the superior service that they have come to expect from Graphel Corporation.
About Graphel Corporation:
Graphel Corporation is a trusted leader in Precision Graphite Machining working with Fortune 500 aerospace, power gen and medical companies. Focused on providing quality, on-time delivery and sustainability, Graphel Corporation, is focused on Precision Graphite Solutions, helping customers solve their most demanding challenges.
Visit http://www.graphel.com for more information.
Connect with Graphel Carbon Products on Twitter (@graphelcorp).