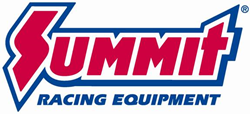 Tallmadge, OH (PRWEB) September 01, 2016
Summit Racing now offers Detroit Muscle 1986 IROC-Z Camaro Parts Combos. The Detroit Muscle crew bought a tired 1986 IROC-Z Camaro with the goal to add as much performance and pizazz to the car as possible with a $7,000 parts budget. The result? 291 rear wheel horsepower, 351 lbs.-ft. of torque, and vastly improved handling.
Third-Gen Camaro owners can duplicate Tommy and Marc's build with these Detroit Muscle 1986 IROC-Z Camaro Parts Combos.
Top End Combo
Tommy and Marc ditched the IROC's 305 for a 350 short block donated by their friends over at Engine Power. Then they threw a Trick Flow top end on it—Super 23® 195 cylinder heads, Track Max® camshaft and lifters, roller rockers, timing set, pushrods, and gaskets.
Engine Accessories Combo
Detroit Muscle went old school with a 600 cfm Holley four-barrel carburetor on a Trick Flow Streetburner® intake manifold. Tommy and Marc then unleashed their secret weapon—a 100 shot of nitrous from an NOS Sniper nitrous oxide system. Other components include an ACCEL HEI unit, a Holley HP fuel pressure regulator, and a pair of Summit Racing shorty headers.
Suspension Combo
Detroit Muscle moved their IROC's handling prowess up a notch with UMI components and a set of KYB AGX shocks and struts. Tommy and Marc wrapped the car's 18 inch wheels with Mickey Thompson Street Comp tires, and replaced the front brake pads with EBC Redstuff ceramic pads.
Seat Combo
After 30 years, the IROC's interior was pretty natty. Detroit Muscle replaced the carpet, headliner, and other interior bits, then swapped the front seats for a pair of Summit Racing Sport Seats in a lovely beige.
Watch the IROC build at PowerNation TV.
Summit Racing Equipment
http://www.summitracing.com
1-800-230-3030