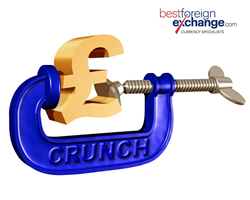 . Based on research findings, consumer expert Which? Group named Bestforeignexchange.com the top travel money provider
(PRWEB UK) 7 September 2016
On Monday, "The Pound hits its lowest level in three years," reported BBC on 17th of August. Additionally, BBC named leading travel money providers offering less than 1 Euro for each pound sterling.
On 8th July, The Daily Mail expressed fury at the exploitation of holidaymakers by greedy currency companies who are "cynically cashing in on uncertainty following the [Brexit] vote with deals well below the market rates." Rather than offer fair exchange rates, these companies are taking advantage of Brexit by offering less than 1 Euro per Pound.
Bestforeignexchange.com is the exception. Based on research findings, consumer expert Which? Group named Bestforeignexchange.com the top travel money provider with an average exchange rate of 1.1828 for Euro and 1.3062 for US dollar. Which? notes holidaymakers can receive an extra 91 euro while utilizing a competitive online provider, such as bestforeignexchange.com, over the Bristol airport.
Senior Manager Trevor Samuel expressed immense gratitude: "We are thrilled with Which? Group's findings! Irrespective of volatile market conditions, we strive to offer the best travel money deal in town. Recognition of our competitive pricing by a reputed consumer-focused magazine is our great delight!"
Even with a fluctuating market, bestforeignexchage.com consistently offers the most competitive exchange rates for more than 120 types of foreign bank notes, with zero commission charges on any travel money transactions.
"Despite adverse economic conditions, independent customer reviews reveal unprecedented demand for travel money. We stick to our policy and continue to be the 'best travel money dealer in London', irrespective of external factors," concluded Trevor.
The travel money can be purchased at any of Thomas Exchange Global's 11 London-based branches conveniently located near main tube stations or by post via Royal Mail next-day delivery.
About BestForeignExchange.com:
Owned and operated by Thomas Exchange Global, BestForeignExchange.com offers the most competitive exchange rates in London and customers who reserve currencies online will be assured the same exchange rate until close of business on the particular day despite any adverse fluctuations. The company stocks the widest range of foreign currencies in London with more than 120 types of foreign bank notes. All foreign currency buy/sell transactions are free of any commission or charges.
BestForeignExchange.com also offers International Money Transfer Service where funds can be remitted to overseas bank accounts within one to two days. With commission free service for transfers over £10,000 backed by competitive exchange rates, customers are assured of a better deal and a substantial savings compared to banks and money brokers. Thomas Exchange Global branches are located at Strand, Embankment, Victoria Street, Victoria Place (Victoria rail Station), Liverpool Street, Hammersmith, Wormwood Street, Cannon Street, Canary Wharf, Hammersmith, High Street Kensington and Richmond.