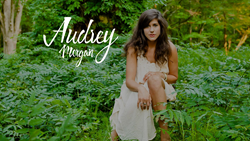 Music is my passion and life is short so I have chosen to pursue what I love.
Atlanta, Ga (PRWEB) August 31, 2016
Audrey Morgan, Atlanta native and longtime musician, is releasing a music video featuring an Audrey Morgan original "Four Seasons" produced by Matt Heath. Gifted with uncanny musical talent, Morgan has been writing and singing her own music since the tender age of 14.
Morgan is inspired by music like "Don't Let Me Down" by Chainsmokers because, as she explains, "the whole song is just emotionally satisfying." As an artist, Morgan strives to imbue deeper meaning in her own lyrics and admires artists who also seek to inspire others. "For me," she says, "lyrics are real. Whether I am sad or happy they are exactly what's happening in my heart at that moment. The opportunity to be transparent with my audience is something special."
With a soulful, at-times smoky sound, Morgan is a modern voice in the indie rock space. Her vocals will resonate with fans of Lorde or Halsey alike. With the highly successful release of her first single she has fast become a mainstay of the Atlanta music scene and is currently working on several projects with broader reach. "I try my best to focus on today, not where I may be tomorrow," Morgan muses.
Morgan regularly performs her music live throughout the greater Atlanta area. She is active on social media, inviting fans to interact with her on Facebook and Instagram. Several of her tracks, including a cover of ""Don't Let Me Down" and "Ain't No Sunshine" are currently available for download on iTunes and SoundCloud.
"Music is my passion," says Morgan, "and life is short so I have chosen to pursue what I love."
AUDREY MORGAN can be contacted at audreymorgan(at)me(dot)com or through her various social media presences. On Facebook she can be found at /audreymorganmusic and on Instagram at @audreyimorgan. Fans can keep tabs on her upcoming shows and new releases at http://www.audreymorganmusic.com.