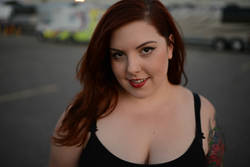 True Colors Fund is glad to partner with Women Innkeepers of Provincetown to raise awareness for LGBTQ youth. It's going to be a great celebration of women with Mary Lambert and Our Lady J.
Provincetown, MA (PRWEB) September 01, 2016
Mary Lambert and Our Lady J round up the lineup of superstars performing at the 32nd Annual Women's Week Festival in Provincetown, Massachusetts.
Lambert and Our Lady J will perform at the closing night concert with proceeds benefiting Cyndi Lauper's True Colors Fund. The benefit concert will be followed by an exclusive Rainbow Party and is one of several events produced by the Women Innkeepers of Provincetown to raise awareness about lesbian, gay, bisexual and transgender (LGBT) youth homelessness in alliance with the True Colors Fund.
Women's Week 2016 continues a long tradition of bringing women who identify as LGBTQ to the beautiful and dynamic town of Provincetown. The week is a celebration of culture and community and is jam-packed with activities including performances by Kate Clinton, Lily Tomlin, Karen Williams, Kate Ferber, Cameron Esposito, Rhea Butcher, Suede, Zoe Lewis, Laura Zucker, Susan Werner and more. Sporting events include pickup basketball, an annual golf tournament, and Kate Clinton's Touch Football Classic.
"There's never been a better time to head to Provincetown and celebrate," said Lynn Mogell, Women Innkeepers of Provincetown Executive Director. "It's always a great party with the best women-centric vacation options and entertainment."
Co-founded by Cyndi Lauper, the True Colors Fund works to end homelessness among LGBT youth, creating a world in which young people can be their true selves. The True Colors Fund is focused on raising public awareness, advocating within government, conducting research, working collaboratively with young people, and organizing communities to develop solutions to prevent and end LGBT youth homelessness.
"Provincetown is the Emerald City for the LGBT community and shows the beauty of how people of all backgrounds and identities can live, work, and play in an environment that allows them to be their true selves. We're honored to team up with the Women Innkeepers of Provincetown to raise awareness about the disproportionate number of LGBT youth who experience homelessness, and to collaborate on new ways to end this problem," said Lauper.
The Women Innkeepers of Provincetown is the only independent professional organization providing resources and strategies to women-owned b&bs, inns, guesthouses & hotels located in Provincetown, Massachusetts. To better serve the public, increase visibility for women-owned businesses in Provincetown and help build robust year-round economic opportunities, the organization works with town boards, business associations, and trade organizations to actively network and market the organization's member businesses and Provincetown.
Information and a full line up for Women's Week 2016 can be found on http://womensweekprovincetown.com. Festivities are held October 7-16, 2016 and this year's headquarters will be hosted by Sage Inn & Lounge (http://www.sageinnptown.com).
Co-founded by Cyndi Lauper, the True Colors Fund works nationally to end homelessness among lesbian, gay, bisexual, and transgender youth. Through a broad continuum of public engagement, public policy, youth collaboration, research, and community organizing programs, the True Colors Fund is creating a world in which young people can be their true selves. http://www.truecolorsfund.org
Closing Night Concert and Party tix available at
https://onlyatthecrown.com/event/692-women-s-week-closing-night-concert