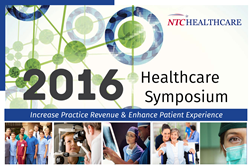 "We are very excited to host such an excellent lineup of speakers, inspire discussions around the topic of financial management and further connect with the Dallas healthcare community." - Linda Borek CEO, NTC Healthcare
Irving, Texas (PRWEB) September 07, 2016
Jeff Lin, Senior Vice President of Product Management at InstaMed, will deliver the opening keynote address at NTC Healthcare's 2016 symposium titled, Increase Practice Revenue & Enhance Patient Experience. The symposium will take place October 19th at the Las Colinas Country Club in Irving, Texas and will cover a variety of topics including trends in healthcare payments, giving patients price transparency and the benefits of patient friendly financing options.
Lin's keynote will specifically address data derived from InstaMed's Sixth Annual Trends in Healthcare Payments Report. This report, released annually in an effort to objectively educate the market and promote awareness consists of quantitative data from the InstaMed Network and qualitative data from healthcare providers, payers and consumers surveyed nationwide.
The symposium agenda also includes a panel discussion on Giving Patients Price Transparency and Affordability led by Senior Vice President of NTC Healthcare, Ted Borek. This panel discussion will address the challenges practices face in providing price transparency and how updated technologies are providing practical solutions.
In closing, Gary Norris, President and CEO of NorthWind Companies, LLC will speak on the overwhelming benefits of choosing patient friendly financing options.
"Healthcare revenue cycle management faces growing challenges as the industry adjusts to years of change and reform," said Linda Borek, President and CEO of NTC Healthcare. "We are very excited to host such an excellent lineup of speakers, inspire discussions around the topic of financial management and further connect with the Dallas healthcare community."
The symposium will take place on October 19, 2016 at The Las Colinas Country Club in Irving, Texas from 10:30am-2:00pm. The event will also feature local vendors and a full lunch will be provided at no cost to the attendees.
Anyone interested in registering for the event may do so by visiting this link http://www.paymentcare.eventbrite.com. For more information on individual sessions visit http://www.ntctexas.com/healthcare-symposium-dallas. Email us at info(at)ntctexas(dot)com with questions.
About NTC Healthcare
Established in 2004, NTC Healthcare, (a division of NTC Texas) located in Las Colinas, Texas is a merchant service provider representing Elavon Global Acquiring Solutions throughout the United States. Our payment processing and other merchant services help increase revenues and decrease costs for healthcare facilities. As a team, NTC Texas and Elavon deliver the most powerful transaction processing package in the industry with a proprietary network, fully redundant systems, 100% up time, and a broad spectrum of healthcare products.