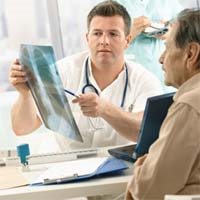 Raleigh, NC (PRWEB) September 01, 2016
In a new study conducted at a Chinese university, researchers found that hybrid PET/CT imaging technology does a better job at identifying malignant lung fluid in patients with mesothelioma than either type of imaging modality alone. Surviving Mesothelioma has just posted an article on the new research. Click here to read it now.
Doctors at Harbin Medical University used the combination 18-FDG PET/CT to accurately identify malignant pleural effusions in 93.5 percent of cases. Identifying when excess lung fluid is malignant can be an important step toward making a diagnosis of malignant mesothelioma.
"18-FDG PET/CT integrated imaging is a more reliable modality in distinguishing malignant from benign pleural effusion than 18-FDG PET imaging and CT imaging alone," writes lead author Yajuan Sun in the online open-access medical journal PLoS One.
CT studies alone were only able to accurate identify malignant pleural effusion in 75 percent of cases. 18-FDG PET was better at 91.7 percent.
"This study is just a reminder that, where malignant mesothelioma is concerned, it is worth it for patients to seek out the highest-level technology and expertise they can find," says Alex Strauss, Managing Editor of Surviving Mesothelioma.
You can find the details of the new Chinese studies and more information about malignant pleural effusion, a common mesothelioma side effect, see Mesothelioma-Related Lung Fluid: Better Diagnosis with HIgh Tech Tool, now available on the Surviving Mesothelioma website.
Sun, Y, et al, "The Role of 18-F-FDG PET/CT Integrated Imaging in Distinguishing Malignant from Benign Pleural Effusion", August 25, 2016, PLoS One, http://journals.plos.org/plosone/article?id=10.1371%2Fjournal.pone.0161764
For nearly ten years, Surviving Mesothelioma has brought readers the most important and ground-breaking news on the causes, diagnosis and treatment of mesothelioma. All Surviving Mesothelioma news is gathered and reported directly from the peer-reviewed medical literature. Written for patients and their loved ones, Surviving Mesothelioma news helps families make more informed decisions.