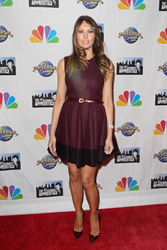 Celebrity gossip is a big part of American culture and the public loves whispering about celebrities and plastic surgery. - Senior Editor of Cosmetic Town
Los Angeles, CA (PRWEB) August 31, 2016
Celebrities are constantly in the public eye with their personal lives and fashion choices analyzed by the public as well as the news media. One aspect of celebrity lives that is frequently discussed is whether or not they have undergone cosmetic surgery. Cosmetic Town, an online plastic surgery news and information destination and community, shines the spotlight on celebrities suspected of having plastic surgery with news articles dedicated to the subject.
According to the senior editor of Cosmetic Town, "Celebrity gossip is a big part of American culture and the public loves whispering about celebrities and plastic surgery. We have an ongoing series of news articles devoted to the subject of celebrities and whether or not their changing looks are due to surgical help. Our latest article examines Melania Trump and how her appearance has changed over the years. Is she letting her looks change naturally with age or is she trying to turn back the clock with the help of plastic surgery?"
Some of the other celebrities featured in the news section of Cosmetic Town include actors such as Jennifer Gray and Tara Reid, reality TV star Heidi Montag and politician Bill Clinton. Each of their suspected surgeries are discussed in detail as well as the reasons the public, as well as the media, believe they have had surgery.
The senior editor said, "some of the celebrities featured in our articles have admitted to undergoing surgery to alter their looks while others have always remained silent on the subject. We try and present the evidence at hand and let our readers decide whether or not the celebrities silent on the subject have undergone any procedures." Some of the surgeries discussed in these celebrity articles include rhinoplasty, liposuction, breast augmentation and blepharoplasty.
As long as celebrities are on the red carpet and in the public eye, "Cosmetic Town will continue to take a look at the evolving appearance of celebrities", according to the senior editor. "The chance to examine why celebrities look the way they do is always interesting to the public. We like to take the information available in our database of doctor approved articles and apply them to the world of celebrities to take a look behind the appearance of public figures."
About Cosmetic Town
Cosmetic Town is an online cosmetic medicine publication that also features doctors who were endorsed and highly recommended by their peers. This reliable and streamlined database allows users to easily navigate the website and access the information they need with just a click of a button. Users can also stay informed and get the latest news on plastic surgery by reading the regularly updated news section. Visiting the forum page is also another way for users to stay engaged and keep each other up to date.