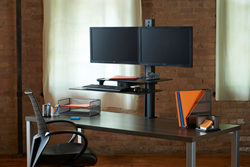 The company's products align well with Perfect Fit Ergonomic's goal to improve worker comfort and productivity
Prior Lake, MN (PRWEB) October 25, 2016
HealthPostures, a national ergonomics adjustable height stand up desk company headquartered in Prior Lakes, Minnesota, has named Perfect Fit Ergonomics as one of its new West Coast dealers. Perfect Fit Ergonomics carries chairs, sit to stand desks and ergonomics accessories that support the entire human body. As HealthPostures' new West Coast dealer, Perfect Fit Ergonomics will broaden its sit to stand and accessory product lines.
Research has shown that standing at work is not the only way to improve focus, engagement and posture. The way that people stand while reading and working with electronic devices like iPods and cell phones is also important, as slumping over to use these devices impacts posture. Posture, in turn, impacts the musculoskeletal system.
Leaders at HealthPostures and Perfect Fit Ergonomics know that mild misalignments in the musculoskeletal system can lead to major health issues and symptoms. If the musculoskeletal system becomes strained, it can become difficult to sit, stand or walk. Fatigue, mental strain and aching joints and muscles are other byproducts of a strained musculoskeletal system. Through its partnership, the firms aim to equip more work environments with the right size and type of equipment that offers the human body optimal support.
Specific HealthPostures' products that Perfect Fit Ergonomics may carry in its sit to stand line include the 6300 TaskMate Go, the 5100 Stance Angle Chair, 6100 TaskMate Executive, 6350 TaskMate Go With Dual Monitor Arm, 6360 TaskMate Go Laptop and the 6300 TaskMate Go. Within the HealthPostures' accessories line, there are the 6200 TaskMate Journey, 6252 Surface TaskMate and the 6254 Surface TaskMate.
All HealthPostures products are supported by a five year warranty. Each HealthPostures' product is manufactured and assembled in the United States. The company's products align well with Perfect Fit Ergonomic's goal to improve worker comfort and productivity. Environments that the dealer agreement will help HealthPostures' expand further into include laboratory, breakroom and medical.
About HealthPostures
Founded in the 1990s, HealthPostures LLC (https://healthpostures.com) has been a leader in the workplace solutions space for more than two decades. The company specializes in the design and manufacturing of workplace solutions like adjustable computer stand for desk, computer monitor stands for desk, sit stand keyboard designs and ergonomic sit stand chairs. Products that HealthPostures develops may help to relieve back and neck pain, headaches and other musculoskeletal disorders. A primary mission of HealthPostures' is to "strive to provide quality products that will help transform your sedentary life so you have a healthy way to work." Sought after ergonomics stand up desk equipment, including popular electric standing desks products, that HealthPostures designs include surface Taskmates, the TaskMate Go Laptop, dual monitor sit stand work stations and Stance move seat extensions. The company's strong reputation and proven products and accessories continue to attract regional and national distributors and resellers.
Contact:
HealthPostures LLC
16801 Industrial Circle
Prior Lake, MN 55372
800-277-1841
https://healthpostures.com
About Perfect Fit Ergonomics
Perfect Fit Ergonomics specializes in providing hard-to-fit solutions for people operating in traditional to demanding work environments. The company carries sit to stand chairs, desks, keyboard trays, cabinetry and more. Industries and environments that it provides ergonomics solutions for include education, government, breakrooms, laboratories, industrial, healthcare and office. Its showroom is in Thousand Oaks, California. The firm also has locations in cities such as San Fernando Valley, Los Angeles, Fullerton, Ontario and Costa Mesa. It is an authorized distributor for leading manufacturers such as Workrite, DeskMakers, Grand Stands, ESI Ergonomics, Sitmatic and HealthPostures. Perfect Fit Ergonomics offers consulting and equipment installation services.
Perfect Fit Ergonomics
250 Lombard Street, Suite 7
Thousand Oaks, CA 91360
(805) 201-2301
http://www.perfectfitergonomics.com/