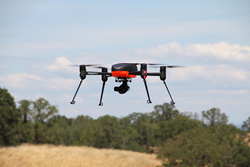 [Draganfly's] SFOC knowledge is industry leading, and we are excited to be able to offer application assistance to our customers across Canada.
Saskatoon, SK & Venice, CA (PRWEB) September 01, 2016
Draganfly Innovations is pleased to announce that they have successfully received Standing SFOCs (Special Flight Operations Certificates) for all of Canada (excluding Quebec).
Draganfly is now able to conduct flight training and demonstrations as well as offer specialized flight services across the country without having to complete a site specific SFOC process.
The certification was obtained for the following regions:
Pacific
Prairie Northern
Ontario
Atlantic
Draganfly is proud to be seen as an industry leader in Canada and the United States in the UAV space, as the capability to obtain nation-wide SFOCs is not without its complications.
"We look forward to being able to share our experience with our clients and customers," said President and Co-Founder, Zenon Dragan, "Our SFOC knowledge is industry leading, and we can now offer more assistance to our customers whether they're looking to expand their own SFOC certification, or have us complete flight demos on site."
Draganfly is happy to offer existing customers assistance with completing their SFOC. Please contact your sales representative for more information.
About Draganfly Innovations Inc.
Draganfly Innovations Inc., a wholly owned subsidiary of Trace Intelligent Systems, is a recognized technology and industry leader within the commercial UAV industry. Its devices have helped establish the commercial market and adoption of multi-rotor helicopters for aerial imaging and public safety.
Further information on Draganfly Innovations can be found at http://www.draganfly.com