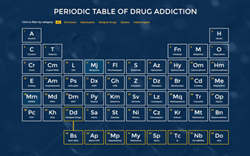 Built by recovered addicts to help people recover
(PRWEB) September 15, 2016
DetoxLocal.com was founded by and is run by recovered addicts and alcoholics. Detox Local's mission is to spread addiction awareness and resources to those in need of help with a drug or substance abuse problem so that they can achieve recovery. The site started with a comprehensive medical detox directory and continues to grow with detox guides, articles, blogs, info graphics, and interactive tools.
Addiction and drug overdoses are on the rise, and the drugs are not going anywhere. Detox Local's goal is to provide harm reduction education and a place to find help if one chooses to stop using drugs or alcohol. Detox Local believes that education is a determining factor in the fight against addiction.
The directory is a zip code search and shows the closest detox centers in one's area. These are not paid listings nor does the directory recommend or sponsor these facilities. Detox Local staff simply tries to find facilities and make sure there is an accurate and up-to-date list. There are over 40,000 cities and thousands of facilities in the data base. One can submit a detox center here.
In addition to the directory, there is educational material that includes medical detox guides to nearly every illicit and abused substance. There is also a blog that includes topics chosen by Detox Local writers or donated by other websites and organizations that share a similar cause.
The most recent post is this interactive drug guide uniquely formatted like a periodic table. It is interactive and very informative with 55 different drugs. Hover over each drug to learn more, or filter drugs by category. Some of the most popular drugs have links to detailed detox guides. There is an embed code on the page so that it can be posted on other websites if one chooses.
Detox Local is constantly changing and updating. The staff is involved with multiple aspects of the drug rehab field and writes guest posts and articles for other websites. Detox Local collaborates with anyone with similar agendas including drug rehab programs, schools, cities, and governments programs. The site is currently working on a national database and search directory of needle exchange programs. Detox Local values lives even if one is not willing to stop using drugs or alcohol. Detox Local wants those who come across the site to be as informed as possible to ensure safety. The idea is that if a person contracts a deadly disease, or dies of a drug overdose, he or she will never have the opportunity to recover.
Detox Local is part of the Facing Addiction Action Network, whose mission is to end the stigma surrounding addiction and initiate social change in the treatment of addiction. The action network provides easy and affordable access to addiction treatment, detox, harm reduction material, and education to millions of Americans. The network's vision is to bring together the best resources in the field to reduce the human and social costs of addiction until the public health crisis is eliminated.