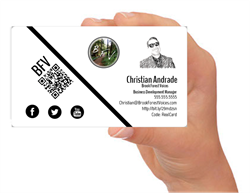 Real Cards allow you to shape your image in your own voice, because who knows the story of your company better than you?
Evergreen, Colorado (PRWEB) August 31, 2016
With small to mid size businesses rapidly needing to expand their reach faster, more easily and inexpensively, Real Cards by Brook Forest Voices provide a tech savvy approach to promote individuals, companies and their products or services. The beauty of Real Cards is easy setup and use with a complex host of features. Built in the size of business cards these sleek, plastic or paper-based cards allow the ability to present a company or idea with any image, video, audio, freebies and more.
By incorporating the use of QR code based technology, these business like cards can be scanned with a smart phone to reach clients on the go anytime, anywhere. Hear a company's story launch from the home page, incorporate access to audio files, videos or products and allow products to be purchased or given away. Imagination is truly the only limit.
BFV's current clients have used Real Cards to promote their audio and physical books, promote their practices and provide coupons to their services. Additionally, Real Cards allow the shape of a company's image in a personal voice, because who knows the story of a company better than the owner? Instead of simply handing a business card to a potential client and hope they research the company, the business can be shown on instant demand.
To see a real card in action visit BFVbiz.com on a smartphone or desktop. Best of all the cards are little more than the cost of a regular business card and require no web editing. Simply work with Brook Forest Business to convey the story of the business. With access to tens of thousands of copy-write free images, music and an actual voice from the business (or professional talent), Real Cards make each company really compelling.
About Brook Forest Voices: An established leader as an audio production company and is now a leader in the world of audio based business development. For more information, contact Christian Andrade, Business Development Manager, at 303-670-4145.