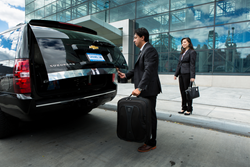 Male business travelers are more likely to use travel apps (61 percent) compared to women (39) percent according to GroundLink survey.
New York, NY (PRWEB) September 01, 2016
As the summer travel season winds down and business travelers get set to hit the road again, GroundLink®, a leading tech-enabled black car service, surveyed nearly 200 frequent business travelers on travel app usage. Sixty-one percent of those surveyed said that they use travel apps at least once a day during their trip, while 30 percent say they use travel apps occasionally when traveling and only 10 percent say they rarely or never use travel-focused apps when traveling. Male travelers are more likely to use travel apps at least once a day (61 percent) compared with female travelers (39 percent).
The most frequently used travel app by those surveyed is airline/flight apps (85 percent), followed by weather (73 percent), GPS (61 percent), Car/Limo (56 percent) and hotel (52 percent). However, almost twice as many men (66 percent) versus woman (34 percent) use hotel apps and same goes for car rental apps where men (67 percent) are twice as likely to use them more frequently than women (33 percent). Contrary to popular belief, both men (53 percent) and women (47 percent) almost equally seek help from GPS apps frequently when traveling.
"There is no doubt that we are living in a mobile-first environment and that increasingly business travelers want more immediate access to travel planning and booking information while they're on the road," said Liz Carisone, CEO of GroundLink.
Forty-two percent of those surveyed download new travel apps every three to four months, followed by 19 percent who only download new apps once a year and 13 percent who download them once a month. Four percent download new apps weekly, while two percent download new travel apps daily. The remaining respondents rarely or never download new apps. Interestingly, 70 percent of the business travelers surveyed say that they are more apt to book leisure travel using an app than business travel (30 percent).
Nearly half (49 percent) of those surveyed use Facebook while traveling, followed by Instagram (15 percent), LinkedIn (nine percent), Twitter (six percent) and Whatsapp (seven percent). Almost twice as many men (64 percent) are on Twitter than women (36 percent), while women (59 percent) are slightly more likely to be on Instagram than men (41 percent) while traveling.
When it comes to ground transportation, GroundLink (82 percent) and Uber (71 percent) are the top two apps that business travelers have downloaded on their phones followed by Lyft (33 percent) and the SuperShuttle (8 percent).
About GroundLink
GroundLink is a tech-enabled provider of executive black car service in major cities throughout the world. Offering the industry's only on-time guarantee, GroundLink focuses on duty of care, with professional drivers who are screened, properly licensed and fully insured. GroundLink offers a multiple booking platform for its consumer and corporate clients that includes its website (http://www.groundlink.com), its iPhone or Android app, and its 24/7 Customer Service Center (855.463.7150). GroundLink has offices in North America and Europe, with its headquarters in New York, NY. Connect with GroundLink on Twitter @GroundLink and on Facebook.com/GroundLink.
# # #