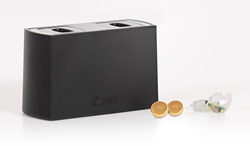 According to a recent study of over 500 consumers, 70% of hearing aid wearers want rechargeable hearing aids.
Camarillo, CA (PRWEB) September 01, 2016
ZPower, the world's only developer of rechargeable silver-zinc microbatteries, will feature its rechargeable system for hearing aids at the upcoming International Hearing Society Convention & Expo, which takes place September 8th – 10th in Chicago, IL. The International Hearing Society (IHS), which hosts the convention, is a membership association that represents over 3,000 hearing healthcare professionals worldwide. IHS members are engaged in testing human hearing, in selecting, fitting and dispensing hearing instruments and in counseling patients. ZPower will exhibit in Booth #307.
According to a recent study of over 500 consumers, 70% of hearing aid wearers want rechargeable hearing aids. However, some specific criteria need to be met for a rechargeable hearing aid to have real value to the wearer. In other words, not just any rechargeable hearing aid will do.
Hearing aid wearers ranked a full day of power on a single charge to be one of the most important attributes of rechargeable batteries. However, hearing aid wearers made it clear they want to have options. In the case where the battery does not last all day, or they forgot to charge it, 80% said they would prefer to use a disposable battery in order to regain power instantly rather than charging their rechargeable system for a minimum of 30 minutes. One respondent made the following comment to support this opinion: "I don't have time to wait around for the battery to recharge—especially at work." Another respondent said, "No one wants to put their life on hold for any length of time so a battery can charge."
After reviewing the results of this recent Hearing Tracker survey, ZPower is pleased to report that the ZPower Rechargeable System for Hearing Aids is in line with the needs of the majority of hearing aid wearers. The ZPower System is the only rechargeable solution that can provide all-day power on a single charge with a battery small enough to be used in today's most advanced hearing aids. Additionally, ZPower's silver-zinc batteries are 100% recyclable and are interchangeable with zinc-air disposable batteries.
To learn more about the ZPower Rechargeable System for Hearing Aids, visit http://www.zpowerhearing.com or visit the ZPower IHS exhibit booth #307.
About ZPower, LLC: ZPower is a leader in the development of rechargeable silver-zinc batteries for miniature battery applications with headquarters and a manufacturing facility in Camarillo, Calif. The company provides a total solution for hearing instrument manufacturers, including advanced silver-zinc battery technology and charger design support. The ZPower solution simplifies new product development and speeds time-to-market. For end users, ZPower batteries deliver unmatched performance, improved user experience and are better for the environment. ZPower is ISO 9001:2008 certified, and its facility and devices are registered with the FDA. For more information, visit http://www.zpowerbattery.com.