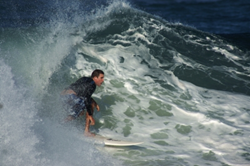 I think the most important thing I've learned from surfing is how much you need to respect the local conditions and know exactly what the ocean is like the day you're out there, but it all starts with being in good water shape.
MARINA DEL REY, Calif. (PRWEB) September 01, 2016
Last month, many surfers got the news they'd long been waiting for: they'll have the opportunity to compete for gold in 2020 when the sport comes into a new level of competition. Already at its most popular in 247 years of existence, surfing is about to garner even more attention as new hopefuls head for the breaks to hone their skills alongside the pros.
Recognizing the risk of injury presented by larger numbers of newcomers and veterans sharing the waves, Dr. Amir Vokshoor—an avid surfer himself—has issued a list of tips to help enthusiasts stay safe while hanging ten. Vokshoor, a neurological spine surgeon at DISC Sports & Spine Center, has not only treated amateur and pro surfers alike, but he's also been the patient as a result of his favorite pastime.
"I think the most important thing I've learned from surfing is how much you need to respect the local conditions and know exactly what the ocean is like the day you're out there," says Dr. Vokshoor. "But it all starts with being in good water shape…being able to handle the physiological demands of the sport in conditions that may fluctuate wildly."
Dr. Vokshoor explains that the most common injuries he sees, beyond the inevitable fin gashes, are muscular in nature or involve the facet joints. Because surfing requires a lot of padding with the neck and head up, the thoracic, lumbar and even cervical spine is often hyperextended, which—in a prolonged fashion—can cause muscular spasms and minor injuries.
"The unpredictable and unstable nature of the water surface causes asymmetric loading coupled with twisting, which can lead to joint injuries and sometimes even disc injuries," he continues. "Add more people fighting for the same waves, and you have an obstacle course where it's hard to avoid collision, let alone the twisting and sudden movements needed to get out of someone's way."
For the best chance at avoiding injury while surfing, Dr. Vokshoor offers these 10 tips:
1. Get in Good Water Shape – Counter-balance exercises, yoga and stretching are essential. Keep your core muscles strong.
2. Pick the Right Board – Size your board appropriate to your ability level. If you're new to the sport, you'll be safer, learn quicker and enjoy yourself more overall on a longer board or foamie.
3. Take or Make a Friend – The buddy system was invented for a reason. If you can't bring a friend to watch your back, make a point to say "hello" to the lifeguard.
4. Know the Breaks – The terrain beneath the water can vary dramatically, even along the same short stretch of coastline. A shore break takes a quite different technique from on reef or point break. Know what you're dealing with before you get into the water.
5. Know the Currents – Riptides and other strong currents require some water safety knowledge and are a major reason why being in good water shape (above) comes in handy. Learn how to deal with them safely.
6. Keep Your Head Up – Learn a lesson from all those Pokemon Go! injuries and keep your head up. Use sighting not only to project where you're headed on a wave, but also to keep track of where you started.
7. Paddle with a Purpose – Avoid getting caught in no-man's land by looking for channels to paddle out, timed between sets when it's calmer. Learn how to duck dive to prevent getting pummeled when paddling out.
8. Respect the Locals – There is a loose but definite hierarchal social structure in most breaks. Knowing your ability level and respecting those around you can keep you out of trouble.
9. Respect the Local Wildlife – While shark sightings may be rare, other sea life is quite common. Stingray spike injuries are painful and should be taken very seriously. Seek timely medical attention.
10. Relax and Get Into Flow – Take a deep breath, keep calm and just go with it. Surfing is not only a lot of fun, but can also be quite therapeutic. And when you're in the zone, you're less likely to panic when things get a little rough out there.
About DISC Sports & Spine Center
DISC Sports & Spine Center (DISC) is California's premier medical group providing the full scope of sports medicine, spinal care, orthopedics, pain management and conservative treatments. DISC has set a new standard for high-acuity, minimally invasive spine surgery and arthroscopy in an outpatient setting, both safely and on a more cost-effective basis. In partnership with Surgical Care Affiliates (SCA), one of the nation's leading surgical care companies, DISC operates state-of-the-art outpatient surgery centers in Marina Del Rey and Newport Beach. Both centers are accredited by the AAAHC, have a zero MRSA infection rate and are conveniently located next to major freeways and airports. DISC, which accepts most major insurance plans, is also the official medical services provider for Red Bull. For more information, contact 866-481-DISC, or visit http://discmdgroup.com.