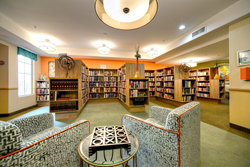 Expertly designed senior living communities can improve the quality of life for residents," said Senior Living Designer Bonnie J. Lewis. "This library design is not only accessible and safe for seniors, it's beautiful, vibrant and empowering.
PHOENIX (PRWEB) September 01, 2016
Libraries are a place of learning, contemplation and enjoyment, and for America's senior living population, they are a main source of recreation that enhances life experience, personal growth and identity development.
So when the Scottsdale-based McDowell Village, a WESTliving senior living community, noticed a common trend – new residents wanted to bring their favorite books with them - the community took measures to help make the move to senior living a little easier with a new library.
"We had outgrown the original library," said Teri Azlin, activities manager at McDowell Village. "We had residents who wanted to bring books with them when they moved in and voracious readers who enjoyed buying and sharing books. We needed to expand."
That's where Interior Designer Bonnie J. Lewis came in. As an accomplished, national and regional award-winning senior living and certified aging-in-place interior designer, Lewis brought a breadth of knowledge to the project that helped create a working library that was not only larger, but more functional and safer for residents to use on a day-to-day basis.
"There were several objectives to meet," said Bonnie J. Lewis, Allied ASID, Assoc. IIDA, CAPS, and founder of 55+ TLC Interior Design, LLC. "We needed to create a larger library that could accommodate the growing need for space, provide a pleasing environment where residents would want to spend time, and be a functional space that was ADA-compliant, meaning the library would include design elements that make it accessible for residents using wheelchairs or walkers."
To meet the objectives, Azlin and the team of senior living professionals at McDowell Village identified an underutilized space ideal to convert into a library.
Then, Lewis went to work redesigning the space into a senior-friendly, fully code-compliant library with enough light, space, furniture designed for the comfort and safety of seniors, and accessible shelving to attract and retain bibliophiles.
"The residents had specific needs and wants we had to design for," Lewis said. "The project called for abundant lighting to make looking for new books and reading more enjoyable, and ADA-compliant, adjustable bookcases so books could be shelved at mid-level heights to prevent library users from reaching too low or two high for the books they were interested in reading."
Lewis' design provides the new library with an additional 1,288 linear feet of book space than the original library's capacity, giving the senior living community the ability to accept more personal book donations from residents.
Color was another key factor in creating an inviting environment that works well for seniors with reduced or impaired vision.
"Aesthetics are particularly important for seniors," Lewis said. "I gave the library a bright, cheerful color scheme with nature-inspired wall art and decor. It creates an uplifting environment."
Lewis's design also incorporated two seating areas and a built-in desk that allows residents to comfortably read, or chat with other residents.
The result is a library that has quickly become a community hub where residents spend time browsing the shelves, reading and visiting with neighbors.
Joan Geyer, a resident and former librarian who now acts as the lead volunteer librarian, says it's a busy place. "We love our new library," she said. "It's very active and well-used. I spend a lot of time there keeping things running smoothly, but to me it's not work at all, it's fun!"
The new design delivers a larger, safer, ADA-compliant space that encourages resident reading, enrichment and brain fitness.
Residents enjoy the new space and desirable developments have come from the design, including residents who formerly kept to themselves bringing newspapers to the library to read in an aesthetically pleasing environment.
"This project is an ideal example of how expertly designed senior living communities can improve the quality of life for residents," Lewis said. "The library is not only accessible and safe, it's beautiful, vibrant and empowering."
Lewis recently received a 2016 ASID Design Excellence Award, from the American Society of Interior Designers, in the Senior Living Facility category for her library design at McDowell Village.
About 55+ TLC Interior Design 
Based in Scottsdale, Arizona and founded by senior living interior designer and certified aging in place specialist Bonnie J. Lewis, Allied ASID, Assoc. IIDA, CAPS, 55+ TLC Interior Design is a national award-winning firm focused on renovation, remodel and new construction design for senior / assisted living communities, healthcare facilities, businesses, and homes. The company's highly-specialized expertise is in designing beautiful, non-institutional-looking spaces that appeal to all generations while specifically and transparently making them safe and accessible for the Baby Boomer and senior population. For more information, visit http://www.55plusTLC.com.
About McDowell Village & WESTliving
McDowell Village is an elegant, comfortable and welcoming 207-unit independent and assisted living community located in South Scottsdale next door to the City of Scottsdale's Granite Reef Senior Center.
It is one of nine WESTliving senior living communities in California, Arizona and Washington. While WESTliving facilities emphasize independent living, they are all licensed to provide assisted living so residents can age in place. Five of its communities also provide memory care. WESTliving is committed to a philosophy of inspired aging that is supported through a range of ever-changing and creative opportunities for residents to be mentally, physically and socially engaged. These include its signature WESTclass hospitality and WESTfitness programs, Ambassador welcoming committees, fun quarterly challenges and monthly themes, happy hours, multigenerational mixers, outings, celebrations and more. WESTliving plans are customized to match each resident's needs and budget, and the company provides a full range of services to help new residents and their families transition successfully into senior living. More information about WESTliving can be found at http://www.WESTliving.net and more information about McDowell Village is at http://www.mcdowellvillage.com.