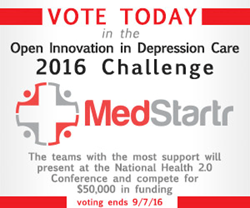 "Crowd Challenges have sparked innovation and adoption for over 200 new ideas in healthcare. We are excited to bring these nine new ideas to market faster and look forward to seeing which of them the crowd likes best." - Alex Fair CEO, MedStartr.com
Santa Clara, CA (PRWEB) September 01, 2016
MedStartr is offering prizes totaling $50,000 to the winners of the "MDDcare16 Open Innovation in Depression Care Crowd Challenge" to find the best new solutions to fight Major Depressive Disorder (MDD). The crowd will help decide who wins as teams are competing see which will get the most support from the community that cares about innovation in depression care.
Major Depressive Disorder (MDD) is the leading cause of disability for people between the ages of 15 and 44 and affects approximately 15 million US adults every year. Patients and care providers need new ways to treat and prevent MDD. The MDDcare16 Open Innovation in Depression Care Crowd Challenge invited all U.S. entrepreneurs, scientists, physicians, patients and passionate parties to submit their best ideas to help care for those who struggle with MDD. Nine teams were approved to compete in the MDDcare16 Crowd Challenge Showcase on MedStartr.com where the teams with the most support will go on to the finals. Hundreds have voted already and thousands more will in the next four weeks.
MedStartr Crowd Challenges are online contests where the top teams are selected by a large community of patients, physicians, nurses, therapists, hospital staff and leaders, partners and investors. The five teams that drive the most engagement in terms of likes, follows, tries, adoptions, pilots, partnerships, support, and investor interest will be invited to take the stage to compete in front of a live audience at the 10th Annual National Health 2.0 Conference in Silicon Valley on September 27th, 2016. Two winners will be selected to share in $50,000 in grant funding.
To learn more about the MDDcare16 Open Innovation in Depression Care Crowd Challenge and to review the nine finalists go to: http://bit.ly/MDDvote.
About MedStartr
MedStartr is the leading crowdfunding platform for medical breakthroughs, helping them go from Idea to IPO by connecting with patients, providers, partners, institutions and investors that care about improving healthcare. MedStartr creates massively engaging experiences to crowd source, market validate, and fund the best new ideas in healthcare. Since launching on July 4th, 2012, MedStartr clients have raised over 500M in investor capital, started hundreds of pilots and partnerships, and begun to help millions live longer, better lives. For more information about MedStartr please visit http://www.medstartr.com.