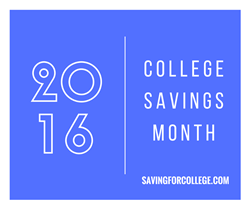 What's clear from the data is that men and women have different attitudes and informational needs when it comes to saving for college
Miami, FL (PRWEB) September 02, 2016
September is widely recognized as College Savings Month, and many states and college savings programs will spend the coming weeks raising awareness about the benefits of 529 plans. With kids heading back to school, it's the perfect time for both moms and dads to think about planning for future education costs.
According to the latest findings from Savingforcollege.com's 2016 Annual College Savings Survey, a person's gender may impact how they save for college. In addition, a separate survey was administered in 2015 that revealed gender differences may exist across a broader spectrum of financial attitudes.
In fact, findings reveal men are more confident about financial issues such as college savings, retirement preparedness and having an emergency fund than women. 61 percent of men claim to have full responsibility for these household investments, compared to just 26 percent of women.
The men surveyed also appeared to be more knowledgeable about 529 college savings plans than the women. 59 percent of women said they don't know which investment options they would select for a 529 plans, compared to only 33 percent of men.
While some of the discrepancies may be rooted in psychology and attitudes, other contributing factors could be the differences in employment status and earning levels, family roles and responsibilities, and a greater awareness of 529 plans among men. This could be an opportunity for the industry to focus on educating women about the benefits of college savings plans and how they operate.
"What's clear from the data is that men and women have different attitudes and informational needs when it comes to saving for college," said Martha Kortiak Mert, VP of Marketing at Savingforcollege.com. "While men are confident and women less so, both genders can benefit from planning tools that help them to project the future cost of college and how much they can realistically plan to save."
The Annual College Savings Survey was administered online by Savingforcollege.com during February through April 2016. For more information, see the attached full report or visit Savingforcollege.com.