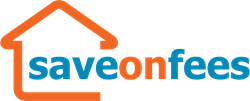 It's like Priceline for Real Estate.
Orlando, Fla. (PRWEB) September 01, 2016
SaveOnFees Inc., a Palo Alto, California company, announces its initial launch in Orlando before revolutionizing the residential home selling experience nationwide. Following the completion of its seed round of financing, SaveOnFees will launch its free online service for home sellers at the Orlando Home & Garden Show on September 9-11.
The new web & mobile app-based service allows home sellers to quickly and anonymously find the perfect real estate agent while comparing commission rates. In as little as 60 seconds and at no cost, home sellers complete a simple online process to receive customized proposals from full-service real estate agents. Home sellers will now have the ability to compare agent information, proposals and commission rates, maximizing their savings and reducing the amount of time and effort required to find their ideal agent. Once the preferred agent is selected, the selling process begins.
"We are disrupting the way home selling has been done for decades," said Benoit Briere, SaveOnFees Co-founder and CEO. "By creating a true marketplace where qualified real estate agents compete for the opportunity to sell a home, SaveOnFees takes the uncertainty out of commission fees and finding the perfect agent." In order to provide home sellers with this opportunity, SaveOnFees works with all Realtors® including national brokerages and boutique agencies to provide a large variety and selection of agents to suit each home seller's unique needs. "The value to real estate agents is also clear. SaveOnFees gives agents access to motivated sellers quickly and inexpensively," said Briere.
"Much like Uber and Airbnb have done for their industries, SaveOnFees enables a paradigm shift focused on the needs of home sellers," said Wayne Miller, Co-founder and COO.
---
ABOUT SAVEONFEES
SaveOnFees is an online service that provides home sellers with the ability to find their ideal real estate agent at their own pace and on their own terms. For many, selling a home is one of the largest transactions of their lives, which means even the slightest improvement can yield significant savings. By creating a true marketplace where qualified real estate agents can bid by submitting a personalized proposal which includes their commission fee; SaveOnFees maximizes the return on investment of the home sellers property and takes the guesswork out of finding the ideal agent.
For more information and to explore how home sellers and real estate agents can sign up, visit http://www.saveonfees.com or call 1-800-763-0803.
Download the free mobile app, available on the App Store and Google Play.
---
CONTACT
Benoit Briere
CEO
2600 El Camino Real, Ste 601
Palo Alto, CA 94306
M: 514.726.2667
ben(at)saveonfees(dot)com
http://www.saveonfees.com