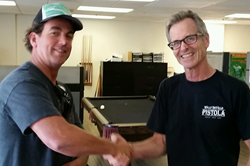 The TRIC system is the best investment I've ever made.
Alameda, CA (PRWEB) September 06, 2016
California Pipe Bursting Manufacturer TRIC Tools travels to Milwaukee for the inaugural 2016 Wastewater Equipment Show (WEQ). The outdoor Show will be held Monday, September 12th from Noon to 6:00 pm and Tuesday, September 13th from 8:00 am to 2:00 pm at the Wisconsin State Fair Park in West Allis, Wisconsin. Operations Director Michael Lien and Midwest Business Development Director Bill Seals both look forward to represent TRIC at WEQ. TRIC will be showcasing its X30 pipe bursting system.
The event will allow show attendees the opportunity for a hands-on demonstrations of sewer cleaning, sewer inspection, vacuum excavation other municipal and industrial equipment used in waste water rehabilitation. Cole Publishing is hosting the WEQ Show. "Having been instrumental in helping TRIC grow its business through their industry magazines and the Pumper-Cleaner (WWET) show, we count everyone at Cole to be close friends", commented Michael Lien of TRIC. Cole publishes Pumper, Cleaner and Municipal Sewer and Water. To see more of Cole's industry content, visit their website: colepublishing.com/publishing.
This August, Buddy Griggs of Santa Cruz, CA based Buddy Griggs Plumbing, stopped by TRIC's offices to share his appreciation for TRIC's X30 pipe bursting system. A few years ago, Buddy asked his new girlfirend for a loan so he could buy a TRIC system promising to pay her back. Two months later he paid her back in full. Buddy commented, "Buying the TRIC system was the best investment I've ever made." Buddy stopped by after completing 10 pipe replacement projects in the past 10 days.
TRIC Tools, Inc. is an infrastructure and environmental solutions company that provides proprietary technology, tools and services for trenchless rehabilitation and replacement of sewer, water, gas and other difficult to access underground pipes. TRIC holds five U.S. and International patents for its device and method of trenchless pipe bursting.
In 1997, TRIC established the standards and created the industry for lateral replacement (home sewer line) using its pipe bursting technology. TRIC continues to re-engineer its technology for new markets, expanding upon its domestic sewer lateral tools with the introduction of innovative solutions for mainline sewer, drinking water and gas distribution pipelines. To learn more about TRIC or the trenchless industry please call 888-883-8742 or go to their website at http://www.trictools.com.